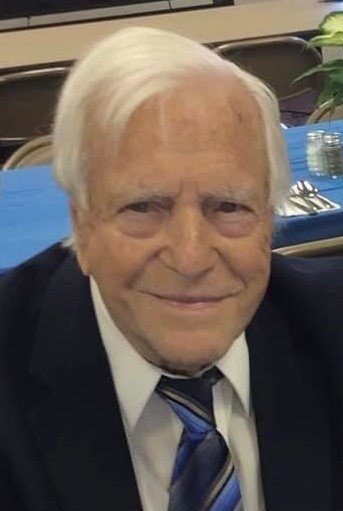 Obituary of Charles Glen Railey
Charles Glen "Bud" Railey, age 96, of Bridgeport, West Virginia passed away peacefully on October 8, 2020 at the WV Veterans' Nursing Facility in Clarksburg. He was born on June 18, 1924, to Charles Mahlon and M. Edith Merrill Railey in their home above the Railey General Store in McHenry, Maryland. Several years later, Deep Creek Lake was created, and he moved close to the Deep Creek Bridge, where his parents were the first developers of cottages, a beach, and Stone Tavern. Bud was predeceased by his parents, his siblings: Clark Railey, Helen Hinebaugh, Earle Railey, Mary Ruth Bittinger, Marjorie Hamill, Robert Railey, and James Railey, and his beloved wife, Elizabeth G. "Jerry" Railey, who died on January 27, 2018. Bud and Jerry were married in Baltimore, MD on October 31, 1947, and they had celebrated 71 years of happiness together. Bud said that from day one, they were a team. They raised a strong family and worked together on real estate development projects in both Bridgeport and Deep Creek Lake. Until the day he died, Bud would smile and call his Jerry "the most wonderful person in the universe." Bud was very proud of their family, and he was always there to help. His children include: Beverly Railey Robinson (Vic) of Hazelton, WV; Patricia Glen Moore (James R, deceased) of Bridgeport; Nancy R. Afflerbach (George), Cape Coral FL; and Diane E. Garvin, Salem, WV. He was blessed with eight grandchildren: Jenifer L. Baker, Matthew J. Moore, Kent N. Moore, Kevin A. Afflerbach, Braden L. Walter, Elizabeth S. Shaffer, Stephen A. Railey, and David B. Railey. Great grandchildren include: Lauren E. Baker, Lucia Moore, Harper, Hudson, & Hadlynn Moore, Penelope, Juliet, & George Walter, Brady Shaffer, and Sophie & Jeremy Railey. Bud was graduated from Accident High School in 1941. After high school, he served in the United States Army from 1943-46. He continued his education, and worked as a civilian employee with the US Army Corps of Engineers. He oversaw construction of the National Security Agency at Fort George G. Meade, MD, military housing, and the US Army Hospital. In 1961, he began working in Washington, DC for the General Services Administration. From 1962-64, his office was at the White House. There he supervised design and construction projects to renovate the National Security Affairs office, the President's Office, and the Blair House, the President's Guest House. He was honored to work with President and Mrs. John F. Kennedy. In 1964, the family moved to Bridgeport, WV. He opened the GSA Office in Clarksburg and supervised federal construction projects throughout WV. Bud retired in 1983, after serving as Supervisory General Engineer for28 years. Following retirement, he formed Construction Consultants of America, Inc. He and partner, the late Red Pierson, developed Deerfield of Bridgeport. Bud's strong interest in politics led him to run for several political offices. A favorite quote of his by Abraham Lincoln was "He has the right to criticize who has the heart to help." So, Bud enjoyed working in the civic and political area to make America better. He was a lifetime member of the VFW and American Legion. He had an on-going love for his native Garrett County and often recalled his principal and teachers from whom he gained a lifelong love for learning. After many years, he was still exceptional in spelling, writing, reading, math, and penmanship. Bud enjoyed working with his school friends to preserve history and write articles for the Glades Star, published by the Garrett County Historical Society. The family wishes to express gratitude to the loving and high-quality care that our father received at the West Virginia Veterans' Nursing Facility. We appreciate that their work has been made even more difficult in the COVID-19 pandemic, and their care never faltered. The family has entrusted the arrangements to the Ford Funeral Home, 215 East Main Street, Bridgeport, WV. Burial will be with his wife in Garrett Memorial Gardens, Oakland, MD. A Memorial service will be held at a future date. In the meantime, please sing his favorite song, "You Are My Sunshine," in his remembrance. Memorial donations may be made to: Wreaths Across America, PO Box 249, Columbia Falls, ME 04623 or wreathsacrossamerica.org Garrett County Historical Society, 107 South Second Street, Oakland, MD 21550 Condolences may be extended to the family at www.fordfuneralhomes.com.
Memorial Service
A Memorial Service will be held at a future date. In the meantime, please sing his favorite song "You Are My Sunshine," in his remembrance.