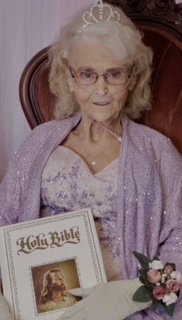 Obituary of Joan Glaspell
Joan Glaspell, 85, of Boothsville, passed away on Tuesday, September 24, 2019 at her residence surrounded by her loving family. She was born July 30, 1934 in Arnettsville, WV a daughter of the late Earl Cranston and Virginia Pearl Lantz Holley. She was preceded in death by her husband of 51 years, Silas Raymond Glaspell, Sr.
Mrs. Glaspell attended the Boothsville United Methodist Church. She was a homemaker in her own home. Joan enjoyed gardening and dog breeding at her kennel, "Momma Joan's Kennel" in Boothsville. She loved being with her children, grandchildren, and great grandchildren.
Survivors include her sons: Raymond Glaspell, Sr. of Boothsville, Silas Raymond "Buddy" Glaspell and his companion Vickie LeBlond of Looneyville, WV, Tommy Boggess, Jr. of Boothsville, and Cody Boggess of Boothsville, her daughters: Donna Vied of Rosemont, WV, Peggy Prince of Pleasant Valley, Rebecca and her husband Todd Campbell of Beechgrove, TN, Marla Gray and her companion Don Leggett of Boothsville, and Jodi Hayhurst of Boothsville. She is also survived by her brother, Junior and his wife Ermma Holley of Buckhannon, WV, her sister Betty and her husband Eddie Hoy of Boothville, her 15 grandchildren and her 25 great grandchildren.
In addition to her husband and parents, she was preceded in death by her brothers, Ray Corder, Bob Holley, and Wilbur Holley.
Friends and family may visit at the Ford Funeral Home, 201 Columbia Street, Fairmont, on Friday, September 27, 2019 from 3PM until 9PM and on Saturday, September 28, 2019 from 9AM until 11AM. The funeral will be held in the funeral home on Saturday, September 28, 2019 at 11AM with Pastor Skip Vincent officiating. Interment will follow at the Clermont Cemetery in White Hall. Online condolences may be made to www.fordfuneralhomes.com.
To send flowers to the family or plant a tree in memory of Joan Glaspell, please visit Tribute Store