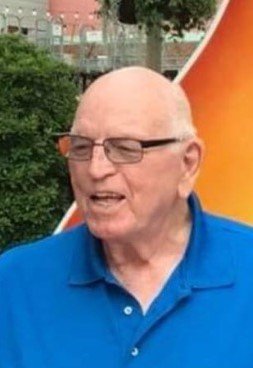 Obituary of Donald Eugene Toothman
Donald Eugene Toothman, 83, of Rivesville passed away on Monday, September 23, 2019, at the Hubbard Hospice House in Charleston. He was born in Rivesville on October 14, 1935, a son of the late Willis Alton Toothman and Mary Ellen Moore Toothman.
Donald is survived by his loving wife, Peggy McCallister Walker Arnett Toothman; two children, Sheila Gump and her husband John of Carolina Beach, NC, and Donna Joan Toothman and her wife Dodie of Knoxville, TN; five step-children, James Walker and his wife Mary of Charleston, Bruce Walker and his wife Joyce of Ft. Lauderdale, FL, Claudette Karr and her husband Terry of Charleston, and C.J. Arnett and his wife Shawn of Chicago, and Dennis Tanner and his wife Shelly of Wellington, OH; many grandchildren; many great grandchildren; and several nieces and nephews.
In addition to his parents, Donald was preceded in death by his first wife, Shirley Musgrave Toothman; son, Bruce Corwin; his brother, Willis Robert Toothman; and his sisters, Delores Jean Hawkins and her husband Elmer, Virginia Eileen Wolfe and her husband Vick, Sarah Jo Grubb and her husband Calvin; and Mary Alberta Michael and her husband Jack.
Donald worked as a supervisor in the Natural Gas Industry and worked at Owens-Illinois for 38 years. He was a member of Highlawns United Methodist Church and a veteran of the U.S. Army. Donald was a member of the Elks, Moose Lodge and VFW. He enjoyed golf, bowling and watching sports, especially the Steelers, WVU football and WVU basketball. Donald will always be remembered for his love of ice cream and mud pie.
The family will receive friends at Ford Funeral Home, DeGarmo Chapel, 207 Second St., Rivesville, WV 26588, on Wednesday, September 25, 2019, from 2 p.m. until 4 p.m. and 6 p.m. until 8 p.m. and on Thursday, September 26, 2019, from 10 a.m. until 11 a.m. The funeral service will be held in the funeral home on Thursday, September 26, 2019, at 11 a.m. with Reverend Stanley Merrifield officiating. A committal service will follow at McCurdysville Cemetery where full military rites will be conducted by the Marion County Veteran's Council. Online condolences may be made to the family at www.fordfuneralhomes.com.
To send flowers to the family or plant a tree in memory of Donald Toothman, please visit Tribute Store