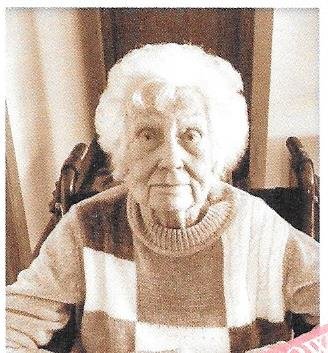 Obituary of Frances Pearl Bissett Williams
Frances Pearl Bissett Williams, 100, the daughter of the late Ephram Jones and Lula Alice Toothman Bissett, passed away on September 4, 2019. She was born September 21, 1918 in Marion County, WV. She was preceded in death by her loving husband of 54 years, Carl Dennis "Pete" Williams.
Frances is survived by her sons, Donald Williams (Peggy) of Damascus, VA, Douglas Williams of Amesbury, MA, and her daughters, Barbara Stotler (Dale) of Fairmont, WV, and Janet Sypolt (Gary) of Midlothian, VA. She is also survived by her grandchildren: Mark Williams of Kokomo, IN, Sheri Burnett of Noblesville, IN, Donald Williams, II of Myrtle Beach, SC, Matthew Williams of Itasca, IL, Kelly Williams of Amesbury, PA, Kerry Williams of Amesbury, MA, Carl Williams of Hudson Falls, NY, Lori Brown of Wexford, PA, Shelby Stotler of Charleston, WV, Chad Sypolt of Superior, CO, and Brandy Perry of Virginia Beach, VA. Frances' legacy includes 13 great grandchildren: Alexandria Williams, Ryder Williams, William Burnett, Emma Williams, Kaitlyn Williams, Lily Williams, Adin Ustick, Jr. , Peter Gibson, Charles Gibson, Andrew Gibson, Waylon Sypolt, Lucas Perry, Jackson Perry and many nieces and nephews.
Frances is preceded in death by her son, Richard Williams, her sisters, Virginia (Jim) Wilson, Merle (Edgar) Williams, Freda Fleming, Madaline (Rex) Crandall, Murella (Glenn) Kann, Maxine (Bill) Hawkins, Dorothy (Ted) Hamilton and brothers Chester (Mary Ann) Bissett, Harold (Anna) Bissett and Arlie Bissett, and her daughter-in-law, Kathleen Williams.
Frances was a homemaker, seamstress, good friend, loving wife and excellent mother. She was a Methodist by faith and a graduate of Barrackville High. She enjoyed reading and in her younger days cooking, gardening, canning and spending time with her sisters. She also enjoyed golfing and traveling with her husband.
The family would like to thank the Fazio's Elder Care in Monongah, WV for their loving care of Frances in her last years.
The family will receive friends at the Ford Funeral Home, Ford Chapel, 201 Columbia Street, Fairmont, WV 26554, on Friday, September 6, 2019 from 12 noon until 4PM and 6PM until 8PM, as well as Saturday, September 7, 2019 from 10AM until 11AM. The funeral service will be held in the funeral home on Saturday, September 7 ,2019 at 11AM with Mr. Brian Cole officiating. The committal service will follow in the Pisgah Cemetery in Monongalia County, WV. Online condolences may be made to the family at www.fordfuneralhomes.com