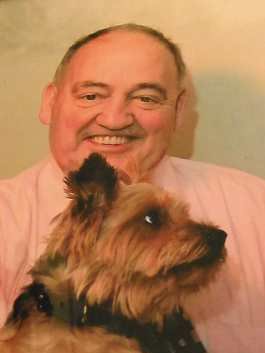 Obituary of John Robert Pownell
John Robert Pownell, 68, of Rivesville, passed away on Friday, August 16, 2019, at his home. He was born in Fairmont on May 16, 1951, a son of the late Howard Washington Pownell and Gladys Viola Sigley Pownell.
John is survived by his loving wife, Eilene "Renee" Hess Pownell; three daughters, Missy Anderson of Rivesville, Chrissy Pownell of Rivesville, and Bobby Jo Hillberry and her husband J.L. of Fairmont; three grandchildren, Kaylia Anderson, John Garrett Anderson, and Hannah Hillberry; two sisters, Nancy Shipley and her husband Lee and Carol McCulley and her husband Victor; a brother-in-law, Mike Hess; an ex-son-in-law, Paul Anderson; many nieces and nephews; a very special friend, Jack Corley; and his loving dog, Bentley.
In addition to his parents, John was preceded in death by his brothers, Ted Sigley, Clark Pownell, Richard Pownell, and Dave Pownell; a sister, Dorothy Yost and a special niece, Tina Wolfe.
John was a retired roof bolter for Peabody Coal Company where he worked at Federal Mine #1 at Grant Town and Federal Mine #2 at Fairview. He was member of the Faith Apostolic Church where he served as a trustee. John was also a volunteer with the Rivesville Rescue Squad and Rivesville Fire Department. He loved the outdoors, camping, hunting and fishing and he enjoyed going to Big Bear Lake. John loved his children, grandchildren, church, church family, as well as Sunday Dinners with family and friends.
In accordance with John's wishes, his body will be cremated. A memorial service will be held at Faith Apostolic Church, 2019 Pleasant Valley Road, Fairmont, WV 26554, on Saturday, August 24, 2019, at 2 p.m. A private committal service will take place at a later date. The family has entrusted Ford Funeral Home, DeGarmo Chapel, 207 Second St., Rivesville, WV 26588, with the arrangements. Online condolences may be made to the family at www.fordfuneralhomes.com.