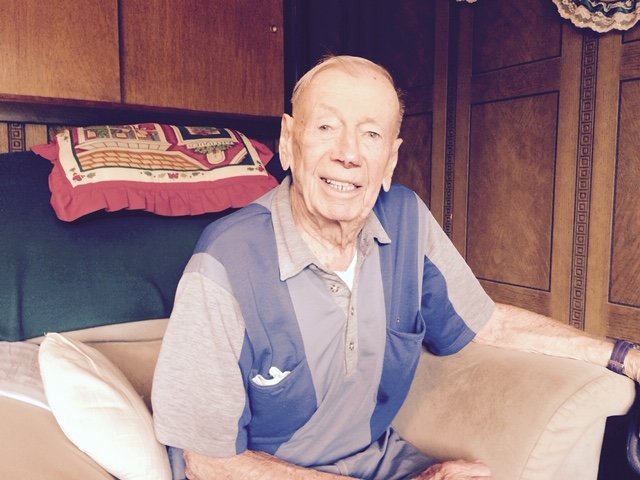 Obituary of Harold Leon Sharp
Harold Leon Sharp, 95, of Monumental Road Community (Buttermilk Hill), West Virginia passed away Thursday, August 1, 2019 at his residence. He was born March 24, 1924 in Grant Town, WV a son of the late Clarence Eugene Sharp & Lillie Alice Toothman Sharp. He was preceded in death by his wife Eva Wiens Sharp on July 22, 2017. He and his wife were happily married for 74 years.
He was co-owner – operator, with his wife, of Sharp's Esso/Exxon in Fairmont, WV with over 30 years of service. He was a member of the Ballah Chapel United Methodist Church in Grant Town, WV and served as a trustee. Mr. Sharp served in the United States Army during World War II in the 274th Armored Field Artillery Battalion and was in the Battle of the Bulge. He was a 1941 graduate of Fairview High School. He enjoyed the outdoors, mowing grass, being with family, traveling and spending winters in Bushnell, Florida.
He is survived by a daughter and son in law Elaine & Keith McClung of Chester, WV, two sons and a daughter in law Randy & Crystal Sharp of Buttermilk Hill, and Timothy Alan Sharp of Albany, Ohio, 13 grandchildren Jeff & Gloria McClung, John & Tiffany McClung, Alex & Brooke McClung, Rebecca & Mike Henderson, Susanna & Mike Rice, Heather & Ryan Ward, Holly Wilson, Alan & Joy Sharp, Eva Courtnee Sharp, Casey Sharp, Casie Sharp, James Sharp and Josh Sharp, 10 great grandchildren Madison McClung, John McClung, Jacob Rice, Lainey Rice, Lillie Rice, Liam Rice, Breydon Wilson, Noah Wilson, Rhett Ward, Angela Sharp, and Alex Henderson, a brother and sister in law Dean & Ruth Sharp of Stratford, VA, a sister and brother in law Jean & Jim Swisher of Wilmington, NC and many nieces and nephews.
Memorial contributions may be made to the Ballah Chapel United Methodist Church, P.O. Box 465, Grant Town, WV 26574.
The family will receive friends at the Ford Funeral Home, Ford Chapel, 201 Columbia Street, Fairmont, WV 26554 on Sunday, August 4, 2019 from 11 a.m. – 4 p.m. The funeral service will be held in the funeral home on Monday, August 5, 2019 at 11:00 a.m. with Pastor Duane Stiles officiating. The committal service will follow in the Beverly Hills Memorial Gardens in Westover, WV. Full Military Funeral Honors will be conducted at graveside by the Marion County Military Veterans Council. Online condolences may be made to the family at www.FORDFUNERALHOMES.com.