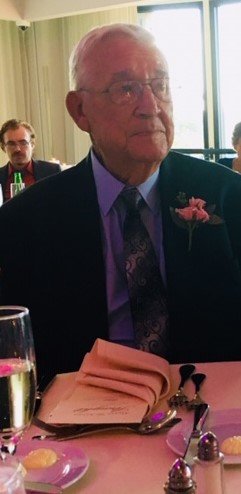 Obituary of Richard Lee Straight
Richard Lee "Dick" Straight, 86, of Barrackville, passed away on Tuesday, July 9, 2019 in his residence surrounded by his loving family. He was born March 22, 1933 in Barrackville a son of the late Howard Glenn and Mary A. Lakin Straight. He is survived by his wife of 64 years, Virginia D. Harper Straight.
Dick was a graduate of Barrackville High School and a veteran of the United States Army where he was a Staff Sargent during the Korean Conflict. He was a member of the Bethesda Baptist Church in Barrackville where he was a trustee, deacon and Sunday school teacher for over 30 years. Dick retired in 1998 from the Marion County Board of Education where he served as a brick mason for over 25 years. He also worked with the Brick Mason Union Federal #4. Dick was a member of the A.F&A.M Acacia Lodge #157 Masonic Lodge in Fairmont and was a 32nd degree mason in the Wheeling Consistory. He was a past Barrackville City Councilman and enjoyed visiting and maintaining his camp at Shaver's Fork in Bowden, WV.
In addition to his wife, he is survived by his sons, John Richard Straight of Barrackville, David Bradley and his wife Lisa Straight of Barrackville, Thomas Glenn Straight and his wife Jodi of Barrackville, and a brother George Edward Straight of Diamond, OH, his grandchildren, Chris Straight, Andrea Straight, Corey Straight, Lidea Straight, Aaron Straight and his wife Alyssa, and Morgan Straight, as well as several nieces and nephews.
Dick was preceded in death by his granddaughter Kelsea Straight, his brothers, Donald Straight, William Straight, Kenneth Straight, and John Straight, his sisters Mildred Trisler, and Doris Sims.
The Straight family would like to thank W.V. Caring Hospice and their staff including: Holly, Louise, Becky and Carrie for their love and kindness over the past month.
Friends and family may visit the Ford Funeral Home, 201 Columbia Street, Fairmont on Sunday, July 14, 2019 from 4PM until 8PM and on Monday, July 15, 2019 from 10 AM until 11AM. The Memorial Service will be held in the funeral home on Monday, July 15, 2019 at 11AM with Reverend Dr. David Cypers officiating. Interment will follow at the Barrackville Cemetery in Barrackville. Online condolences may be made to www.fordfuneralhomes.com.