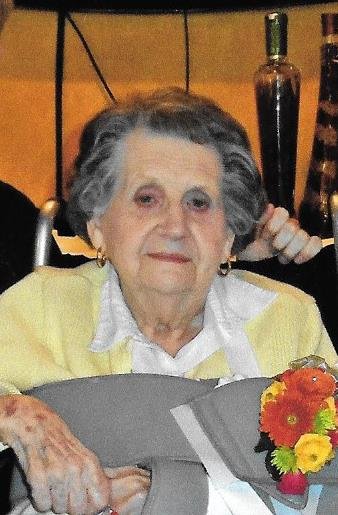 Obituary of Margaret June Moyer
Margaret June Moyer, age 97 of Fairmont, formerly of New Hill (Worthington), passed away at UHC on July 2, 2019 surrounded by her loving family. She was born in Taylor County, West Virginia on June 2, 1922 to the late Elmer L. Phelps and Mabel Ruth Johnson Phelps.
Margie, as known by her family, June as known by her friends and named for the month of her birth, was a devoted homemaker. She dedicated her life to the care of her children and grandchildren. She approached her homemaker duties as any professional would approach a job- cleanliness and organization were very important. She spoiled her family with delicious meals from the mounds of recipes she accumulated throughout her life.
Growing up in the depression, she said that she would try to hide the fact that she had to eat homemade bread instead of store-bought bread, but throughout the years she filled the kitchen with the wonderful smell of fresh baked bread- bread which the family greatly preferred over anything store-bought.
Margie was blessed with a devoted family who cherished her and cared for her, especially during the last years of her life. Her son-in-law always said she was the best mother-in-law a person could ever have. She maintained a wonderfully witty sense of humor, a very sharp mind and a love of Beatles music throughout her life.
She was preceded in death by her parents as well as her mother and father-in-law, Roy H. and Stella Moyer. Her husband, William W. Moyer died on February 2, 1988, her son, Gary Moyer, passed away on October 29, 1980 and her son-in-law, George G. Goolie, Jr. died on June 21, 1969. Also preceding her in death were her sister, Virginia L. McCauley and brothers, Leonard and George Phelps. She was the last of her immediate family as well as her husband's family.
Margie leaves behind her daughters Theresa (Sarah) Goolie, Toni Nesselrotte and husband Bill, of Fairmont; daughter-in-law Judy Sloan and husband Matt, of Worthington. Her loving grandchildren are Douglas Moyer and wife Leah, of Worthington; Tammy Harbert and husband Brad, of Monongah; Lynna Gaskins and husband Robert, of Maryland; Gene Goolie and wife Jessica, of Fairmont and Ean (Tyler) Nesselrotte and wife Alexandria, of Texas. Special great-grandchildren are Shannon Moyer and wife Ali; Danielle Wilson and husband Jamie; Ryan Harbert, Evan Harbert, Geremy Goolie. Garret Goolie, Nathan Gaskins, and Elinor Nesselrotte. Great-great grandchildren are Mason Wilson and Elayna Wilson.
Margie loved animals and took care of many strays throughout the years. She was a faithful monthly contributor to the Marion County Humane Society so in respect to her wishes, the family requests that in lieu of flowers, donations be made in her memory to the Marion County Humane Society, PO Box 905, Fairmont, WV 26554.
The family has entrusted Ford Funeral Home, 201 Columbia St., Fairmont, WV 26554, with the arrangements. All services will be private to the family. Online condolences may be sent to the family at www.fordfuneralhomes.com.