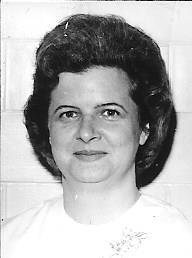 Obituary of Nancy Lou Golden Ayers
Nancy Lou Golden Ayers of 1430 Carolyn Road, Fairmont, WV, and formerly of Clarksburg, WV, went to be with her Lord on Thursday, June 6, 2019.
She is survived by one son, Lyle L. Ayers, Jr and fiancé Jennifer Drake of Tarboro, NC; grandchildren, Scott Ayers, Sabrina Flint and husband Don, and Nic Polson; two greatgrandchildren, Jessie H. Johnson III, Pamela Jean "PJ" Johnson; step-greatgrandchild, Kaleb Spagnuolo; ex daughter-in-law, Beverly Ayers Sandy; brother-in-law, John Reppert and wife Randi; as well as many nieces and nephews.
In addition to her parents, she was preceded in death by her husband, Lyle L. Ayers Sr.; an infant son, John Edward Ayers; two sisters, Clara Kathleen Golden Weekley, Mary Florence Golden Lodge; brothers, William W. Golden, James M. Golden, John P. Golden, Edward L. Golden, Robert C. Golden; brother-in-law, Edward Ayers; and sister-in-law, Helen "Bill" Ayers.
Nancy was 6th Grade May Queen and Salutatorian of her 1945 graduating class. She was a member of the Order of the Eastern Star and of the Bell Atlantic Pioneers. In 1945, she was hired as a Clarksburg Dial Administration Clerk. In 1964, she worked in the test center, engineering and dial administration. She retired from C&P Bell Atlantic Telephone Company in the Engineering Department.
She and her husband, Lyle, owned an orange grove in Arcadia, FL where they spent the winter months. Nancy loved to travel, having the opportunity to go to the Canary Islands, the Virgin Islands, Europe, Rehobath, DE, and Myrtle Beach. She and her family and friends enjoyed time spent at their cabin on the Buckhannon River. Nancy loved and enjoyed playing the piano and organ at her leisure. She loved to watch and feed the birds. She loved the flowers that were planted around her house in Clarksburg. While Nancy resided with her grandson Scott in Fairmont, she enjoyed sitting outside watching for the deer, squirrels, and even Scott's cats and dog, "Lil Girl". She especially enjoyed when Roman and Phillis Featherol neighbors would visit for a while. Also, Mary Ann Amos. Nancy was truly blessed to have such dedicated caregivers during her illness, Debbie Jane Hrubik, Beverly Sandy, Marilyn Newlon Cole, Tracy Hieskell West, Michelle Trantifilou, Melanie Ward, and Elisa Leatherman.
The family will receive friends for a graveside service at Bridgeport Cemetery on Saturday, June 8, 2019, at 11 a.m. with Reverend James Morley officiating. The family has entrusted arrangements to Ford Funeral Home, R.C. Jones Chapel, 1410 Country Club Road, Fairmont, WV 26554. Online condolences may be made to the family at www.fordfuneralhomes.com.
To send flowers to the family or plant a tree in memory of Nancy Ayers, please visit Tribute Store