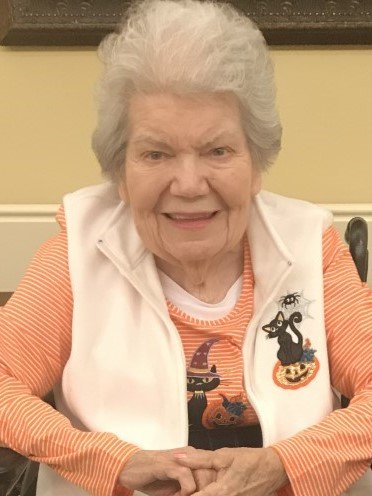 Obituary of Joy Peart Nuzum
Joy Peart Nuzum, 94, of Fairmont, WV , formerly of Louisiana, received her reward and went to be with our Lord when she passed away on May 24, 2019 surrounded by her family. She was born January 8, 1925 a daughter of the late Ametter and Herman H. Peart. She was preceded in death by her husband of 64 years, William R. Nuzum.
Joy met her husband Bill in her home state of Louisiana while Bill was serving our country in WWII. After their marriage, Bill moved Joy to his hometown of Fairmont, WV where they began their family
After moving to West Virginia in 1947, Joy became a true WVU fan and loved watching the Mountaineers play football and basketball. Until recently, she knew the names and positions of each and every player and voiced her opinion if they were doing good or bad. The only thing that would keep her from watching a WVU game was if LSU was playing. She also like to cook and no friend, family, or stranger every left her house hungry or if they did, as Joy would say "It's your own fault if you don't eat". She was loved by all and will be greatly missed.
Surviving are a sister Dorothy Adrian and three children, Patty (Paul) Ferguson, living in Salisbury Maryland; Brenda (Thomas) Kirk, living in Winfield, WV; and William H (Terri) Nuzum, of Fairmont. Joy has four grandchildren, Jennifer J (Jeff) Sturm of Wilmington, NC; Shana R. Ferguson of Butler, PA; Shane P. (Katy) Ferguson of Berlin, MD; Kristopher Lee (Amber) Kirk of Russel KY. Joy's great grandchildren are Justin and Jayden Sturm; Kody Moore; Makala, Torin and Kolten Kirk; Breanne and Emily Ferguson; and Amanda Howard and Abby Legonigro. Also surviving are many nieces, nephews and great nieces and nephews living in Louisiana and Texas.
In addition to her parents, Joy was preceded in death by her brothers Herbert, Roy and Julian Peart, and a sister, Faye Franks all of Alexandria, Louisiana as well as her infant grandson Brian Ferguson.
As per Joy's wishes, the family will hold services at Grandview Memorial Gardens privately. The family has entrusted her services to Ford Funeral Home, 201 Columbia Street, Fairmont. Online condolences may be made to www.fordfuneralhomes.com.