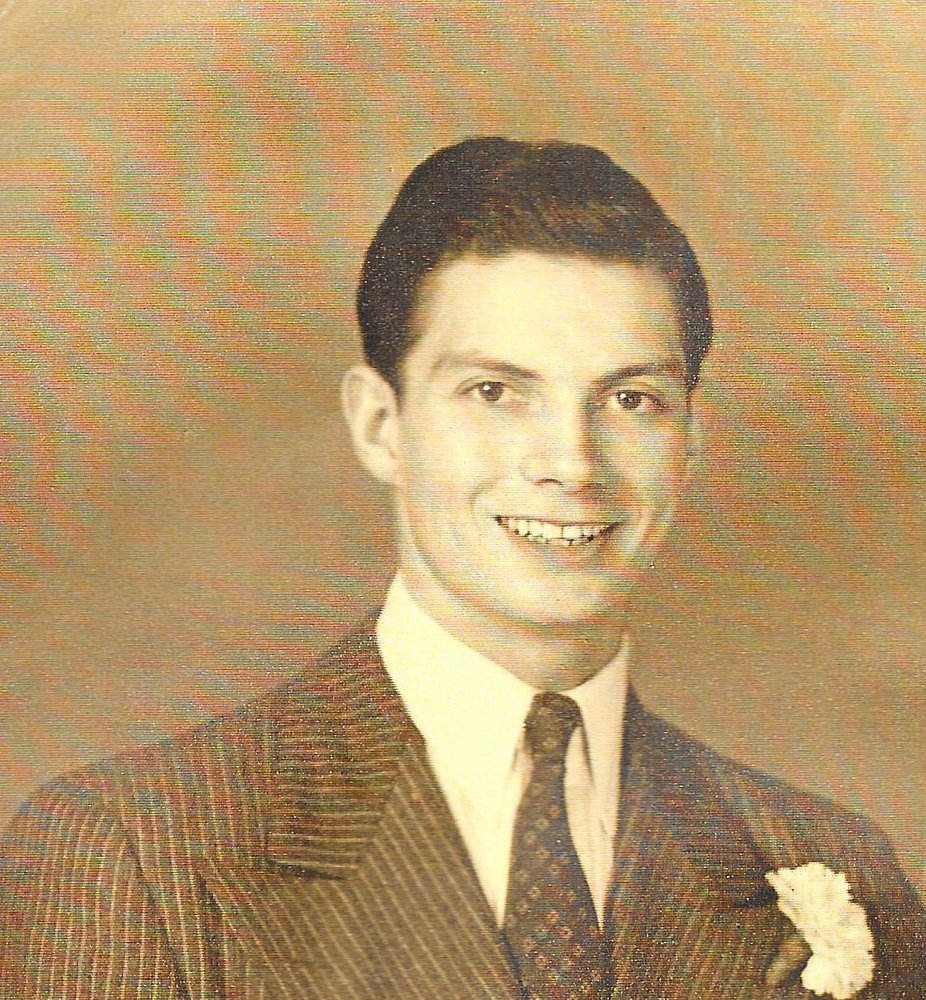 Obituary of Kenneth Martin Butcher
Kenneth Martin Butcher, 94, of Fairmont, West Virginia died Thursday, April 11, 2019 in the West Virginia Veterans Facility, Clarksburg, WV. Kenneth, known as "Ken" or "Butch", was born April 27, 1924 in Fairmont, WV a son of the late James Garfield Butcher and Katherine "Katie" Louise Crone Butcher. He was preceded in death by his loving wife Hazel Josephine "Jo" Stanley Butcher. They were married August 9, 1946.
Mr. Butcher had 3 children and raised them in Millersville and Benton's Ferry Communities. Their children are Margaret Ersell Brown of Florida, Kenneth Bradley Butcher & his wife Cheryl V. Heston Butcher of Mannington, W.V. and the late Martin "Marty" Alan Butcher. He was a loving grandfather to Mariah LeAnne Carr & her husband Bryan Carr of Monongah, WV where they live with their children Peyton Bradley Taylor, Raquel Elyse Taylor and Gabriel Carr, Ryan Bradley Butcher & his wife Bethann Butcher of Houston, PA and their two children Landon Bradley Butcher and Brooklyn Thompson, Bradley Alan Butcher & his wife Patty of Brookville, PA and their three children Oliver Martin Butcher, Wesley St. Clair and Perry James Butcher, Nicholas Ryan Butcher of Morgantown, WV, Kenneth Martin Butcher of Clarion, PA, Stacey N. Brown and Amy Brown of PA and the late Justin Brown. There are many great grandchildren, nieces and nephews. He is also survived by a brother Glen Edward Butcher & his wife Sandi Butcher of Colorado Springs, CO. He was preceded in death by his brothers Albert Denzil Butcher and Jerry Thomas Butcher, his sisters Beatrice "Bea" Boyce, Betty Jean Shaver & Joann Bailey.
Ken graduated from East Fairmont High School in 1943 and enjoyed attending his 1943 Class Reunions. He then immediately joined the United States Army and served during W.W.II from June 2, 1943 to Feb. 11, 1946. He served in the Asiatic Pacific Theater in New Guinea and was awarded the Bronze Star, Good Conduct Medal, the AAA Victory Medal and the Weapons Crewman Rifle MKM-Battery C 785th.
Mr. Butcher graduated from Fairmont State College with an Education Degree in English and was Captain of the F.S.C. Tennis Team. He taught school at Fairmont Senior High School and later worked in Ohio for Delco Products. He returned back to Fairmont where he owned and operated Kirby Vacuum Company for over 60 years. Ken was a very hard worker, personable and had a great sense of humor.
Ken was a former Mason here locally and Shriner with the Osiris Shrine Center in Wheeling, WV. He followed his son Brad's Basketball Career at E.F.H.S. and at F.S.C. He also enjoyed following his son Marty's games when he played ball and when he later coached his children in different sporting events. Ken was an excellent cook, loved gardening and traveling with his wife around the country and abroad. He enjoyed family vacations at their beach house in Myrtle Beach, S.C. He delighted in the holidays with friends and family. Ken was known to wear his famous red sweater that his mother in law Hazel Ersell bought him from the old G.C. Murphy's Company in Fairmont. He wore it all through the Christmas Season. Ken loved animals and his dogs "Bonnie", "Annie", "Lady" and his favorite "Gunner". Gunner and Lady traveled with the family to Myrtle Beach and enjoyed riding in their golf cart.
The family would like to thank Amy Riley, Debbie Springer, Kate Stewart, Shelia Hill and the Doctors, Nurses & Staff at the Manchin Nursing Home and the W.V. Veteran's Nursing Facility for their kindness, support & care.
Memorial contributions may be made to the W.V. Veteran's Nursing Facility, 1 Freedom Way, Clarksburg, WV 26301, Shriner's Hospitals for Children, c/o Osiris Shrine, P.O. Box 2048, Wheeling, WV 26003 – 304-242-2911 or to the Marion County Humane Society, P.O. Box 905, Fairmont, WV 26555-0905.
The family will receive friends at the Ford Funeral Home, Ford Chapel, 201 Columbia Street, Fairmont, WV 26554 Sunday, April 14, 2019 from 3-7 p.m. and on Monday, April 15, 2019 from 10-11 a.m. The funeral service will be held in the funeral home Monday at 11:00 a.m. with Reverend Stanley Merrifield officiating. The committal service will follow in the Grandview Memorial Gardens, Fairmont, WV. Full Military Funeral Honors will be held at the cemetery. Online condolences may be made to the family at www.FORDFUNERALHOMES.com.