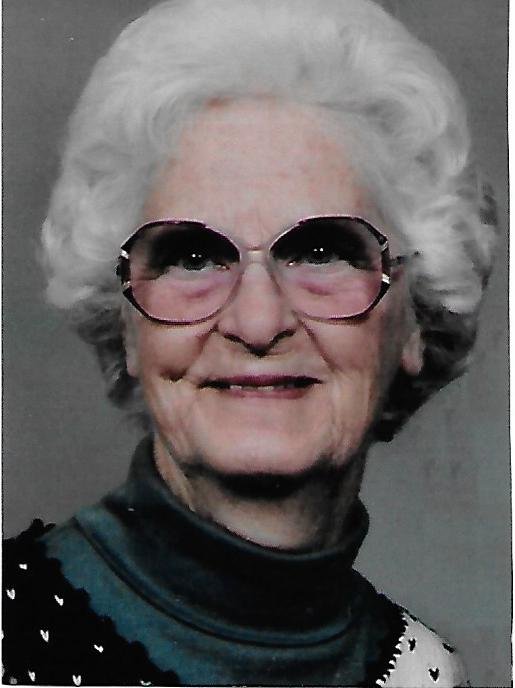 Obituary of Dorothy L. Nichols
Dorothy Lucille Vincent Nichols, 96, a resident of Fairmont for most of her life, passed away on Sunday, April 7, 2019, at the home of her daughter and son-in-law Pam and Roger Stevens in Elkins, where she made her home for the past fifteen years. She was born October 22, 1922 in Fairmont, the daughter of the late Bert and Beulah Kirk Vincent. On June 21, 1944, in Fairmont, she married Dorsey William Nichols who preceded her in death on February 18, 2004.
Dot graduated from East Fairmont High School and was a homemaker. She was a member of the Hopewell United Methodist Church in Fairmont.
In addition to her daughter and son-in-law, she is survived by her granddaughter and her husband, Tami and Scott Humphrey of Elkins, her grandson and his wife, Todd and Lisa Stevens of Fairmont, and her two great-grandsons, Evan Michael and Ethan Connor Humphrey of Elkins. Also surviving is one sister, Tressie Layne, sisters-in-law, Betty Offutt, Marlene Nichols, Patty Belknap, Helen Nichols, and brother-in-law Fred Nichols.
In addition to her husband and parents, she was preceded in death by her brother, Earl Vincent, sister-in-law, Janet Morrison, brothers-in-law, William Layne, Raymond Nichols, Otto Offutt, James Morrison, Homer Belknap, and several nieces and nephews.
Friends and family may visit the Ford Funeral Home, 201 Columbia Street, Fairmont on Tuesday, April 9, 2019 from 4PM until 9PM, and on Wednesday, April 10, 2019 from 11AM until 1PM. The funeral will be held in the funeral home on Wednesday, April 10, 2019 at 1PM with Pastor Claude Kinty officiating. Interment will follow at the Mt. Zion Cemetery and Mausoleum. Pallbearers will include Roger Stevens, Todd Stevens, Scott Humphrey, Dave Morrison, Evan Humphrey, and Ethan Humphrey.
To send flowers to the family of Dorothy Nichols, please visit Tribute Store