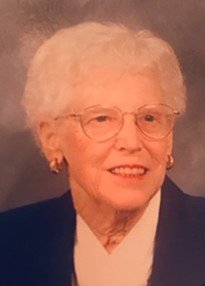 Obituary of Dora Elizabeth Tennant Ashton
Dora Elizabeth Tennant Ashton, 95, formerly of Clarksburg, died Friday, February 22, 2019 in Fairmont, WV. She was born September 19, 1923 in Fairview, WV, a daughter of the late Clarence and Louie Brookover Tennant. On January 12, 1957, she was preceded in death by her husband Robert Ashton whom she married on February 22, 1945.
Mrs. Ashton was a member of the Central Church of Christ in Clarksburg where she taught children's Bible class for several years. She was a graduate of Fairview High School as well as a 1944 graduate of the Fairmont Emergency Hospital with a degree in nursing. Dora worked at the hospital as a floor supervisor for many years. She later worked as a staff nurse in Tyler, TX, as well as a private care nurse in Clarksburg. She retired in June of 1988 from Newell Glass as an industrial nurse with 26 years of service. After her retirement, she volunteered weekly as a nurse at the Pleasant Acres Christian Haven in Fairmont. Dora was recognized as an honorary member of the St. Mary's Nurses Alumni.
Dora was the last surviving member of her immediate family. She was preceded in death by her two older brothers: Bernard "Bud" Tennant, and Burley Tennant, Sr. and his wife Beatrice Tennant.
Survivors include her nephew, Burley and his wife Jacquie Tennant, Jr, her niece, Diane and her husband Rocky Glover, a great niece, Dr. DeeDee and her husband Jeoffrey Bodenhorst, a great nephew, J.B. and his wife Shirley Tennant, and a great step niece, Nikki and her husband Michael Dredes, as well as two great-great nephews, Max Benno Bodenhorst and Alex Tennant Bodenhorst, and a great great step niece, Ashley Dredes.
Memorial donations may be made in her memory to the Central Church of Christ, PO Box 48, Clarksburg, WV 26302.
Friends and family may visit at the Central Church of Christ, 232 South Chestnut Street, Clarksburg, WV 26301, on Saturday, March 2, 2019 from 10AM until 11AM. The funeral will be held in the church on March 2, 2019 at 11AM with Evangelist Tim Jorgensen and Keith Bramel officiating. Interment will follow at the Floral Hills Memorial Gardens in Mt. Clare, WV. Online condolences may be made to www.fordfuneralhomes.com.
To send flowers to the family of Dora Ashton, please visit Tribute Store