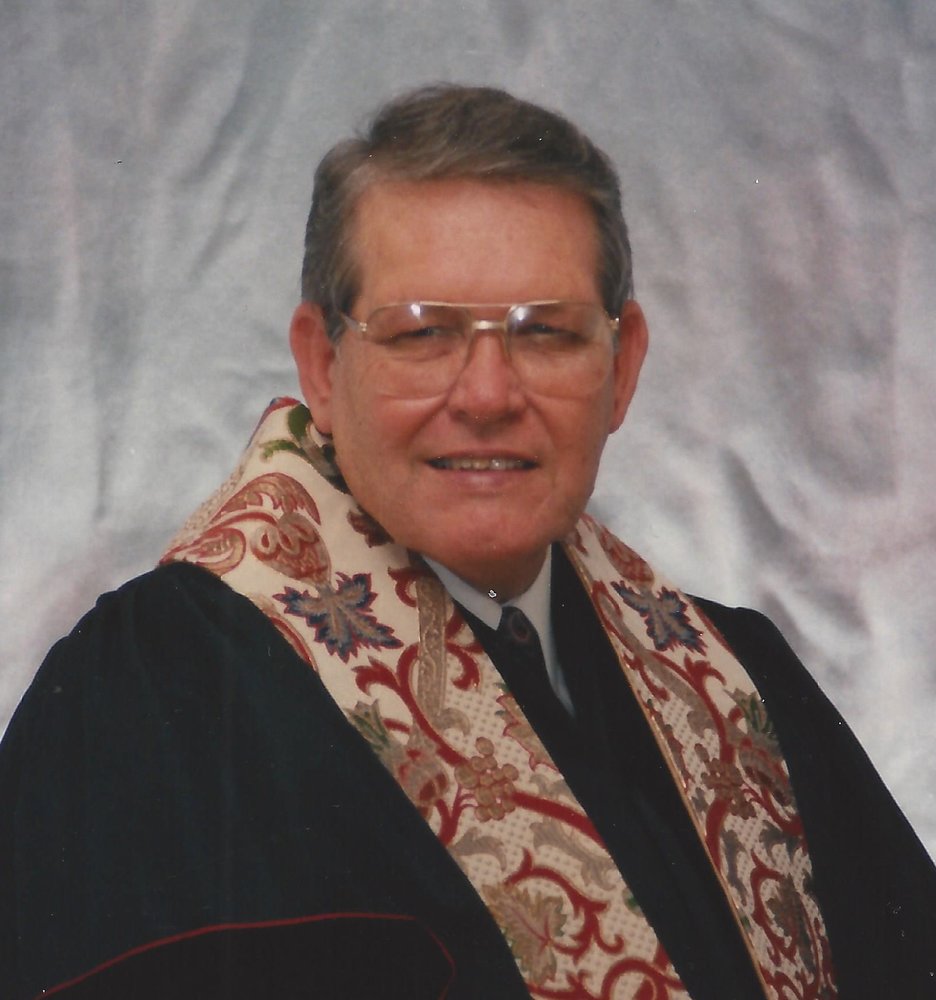 Obituary of Reverend Dr. Richard L. Wright
The Rev. Dr. Richard L. Wright, a retired minister from the West Virginia Conference, died on December 4, 2018 at the age of 88. He was born on April 19, 1930 in Moundsville, WV, the son of Chalmer H. and Mildred Maupin Wright. On September 16, 1953, he married Leanna Rosalie Staley. They were married 64 years before her death in December 2017.
Richard was a graduate of Moundsville High School. He received his Bachelor of Arts from Asbury college; his Masters of Theology from the Perkins School of Theology at Southern Methodist University; and his Doctor of Divinity degree from West Virginia Wesleyan College.
He served congregations in WV at Clifton Methodist Church, Mason Methodist Church, Rainelle Methodist Church, and The Church of the Good Shepherd in Grafton, Bridgeport United Methodist Church and Wesley United Methodist Church in Morgantown. He was the Council on Ministries Director, in Charleston, WV for 5 years, District Superintendent of the Buckhannon District for 6 years, and the Dean of the Bishop's Cabinet. He served 8 years on the General Board of Higher Education and Ministry. He was elected five times as a delegate, and once as reserve, to the General Conference of the United Methodist Church. He was elected six times as a delegate to the Northeastern Jurisdictional Conference. He served several offices in the WV Annual Conference which included being Chairperson of the Board of Ordained Ministry. He is a trustee Emeritus of West Virginia Wesleyan College and Pastor Emeritus of Wesley United Methodist Church. He was a member of the Board of Directors for the Morgantown Pastoral Counseling Center, Chaplains Advisory Committee for Ruby Memorial Hospital, Volunteer Chaplain at Monongahela General Hospital, Vice- chairman for Glenwood Park Retirement foundation in Bluefield, WV and past board member of WV Conference Foundation. He was a past president of the Grafton Lion's Club and past member of the Morgantown Rotary Club. He retired after 45 years of active ministry, in June 1997, from Wesley United Methodist Church. After retirement, he served as the Trustee Agent for the WV Annual Conference Board of Trustees.
Richard was a loving and devoted husband, father, grandfather. He will be remembered for his sense of humor and sometimes endless storytelling. He had a passion for reading and could be called a "history buff". He enjoyed the beautiful rolling hills of WV with his family and traveling with his wife, Leanna. He was known as a faithful counselor and disciple of Christ and a dedicated minister to his parishioners.
In addition to his parents and his wife, Leanna, he was preceded in death by his stepmother, Gladys L. Wright: sister, Nathalie Wright Ruggles: brothers, Rev. Karl E. Wright and Paul H. Wright; and daughter-in-law, Kimberley J. Wright. He was survived by his children, Lanell Y. Johnson and husband, Lonnie, Douglas K. Wright, Lanita B. Myers and husband Dave, Dr. Darren S. Wright and wife Connie; half brother John R. Wright and wife Faye; half sister Mary Wright Miller and husband John; grandchildren, Kristin N. Wright, Leland W. Johnson, Landon C. Johnson, Lauren E. Myers, Drew R. Myers, Emma L. Wright and Keaton J. Wright.
In lieu of flowers, the family requests memorial gifts to be made to any congregation in which Richard served.
Friends will be received at the Ford Funeral Home, 215 East Main Street, Bridgeport, WV on Friday from 4:00 PM – 8:00 PM. Also on Saturday, friends will be received at the Bridgeport United Methodist Church, 251 Worthington Drive, Bridgeport, WV from 9:30 AM – 11:00 AM. The funeral service will be celebrated in the church on Saturday, December 8, 2018 at 11:00 AM with Reverend Dr. Ken A. Ramsey presiding. The interment will be held at a later date.
Condolences may be extended to the family at www.fordfuneralhomes.com. The Wright family has entrusted the care and arrangements to the Ford Funeral Home, 215 East Main Street, Bridgeport, WV 26330.