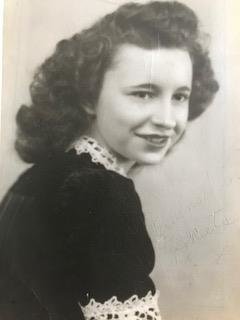 Obituary of Oneda Jeannine Wise
Oneda Jeannine "Skeets" Wise, 89, of Barrackville, passed away on Friday, July 6, 2018 at MonGeneral Hospital in Morgantown, WV. She was born March 1, 1929 in Arnettsville, WV, a daughter of the late Jesse Burl and Hazel M. West Hawkins. She was preceded in death by her husband William Morgan Wise on December 12, 1997.
Skeets was a 1947 graduate of Barrackville High School. She was a homemaker within her own home. Skeets was a member of the Monumental United Methodist Church where she was had served as the pianist. She was currently attending Bethesda Baptist Church in Barrackville with her family. Skeets loved her community and was a strong supporter of her Barrackville Bisons. She had been a homeroom mother and active volunteer while her children attended local schools. She was a member of the local homemakers club.
Survivors include her daughters, Beatrice "Kay and her husband David Tonkin of Barrackville, and Patricia Williams of Scottsboro, AL, her son Michael Wise of Barrackville, grandchildren: Joni and her husband David Tennant of Fairview, Kristen and her husband Brooks Barker of Monumental, Heather and her husband Jerry Rosson of Alabama, and Stephanie and her husband Dewayne Walker of Alabama, eleven great grandchildren: Kayla, Tyler, and Thad Tennant, Gavin and Lea Barker, Trevor Tonkin, Jonathan Ledwell, Jessica and Shelbie Rosson, Grant and his wife Sara Walker, and Allyson Walker. She is also survived by her brother, Jack Hawkins of Barrackville, her sisters, Donna Martin of Columbus, OH, and Rose and her husband Buck Satterfield of Charleston, WV, as well as many nieces and nephews.
In addition to her husband, she was preceded in death by her grandson, Chuck Tonkin.
Friends and family may visit the Ford Funeral Home, R.C. Jones Chapel, 1410 Country Club Road, Fairmont on Monday, July 9, 2018 from 2PM until 8PM and on Tuesday, July 10, 2018 from 10AM until 11AM. The funeral will be held in the funeral home on Tuesday, July 10, 2018 at 11AM with Rev. Dr. David Cyphers officiating. Interment will follow at the Monumental Cemetery in Monumental. Online condolences may be made to www.fordfuneralhomes.com.