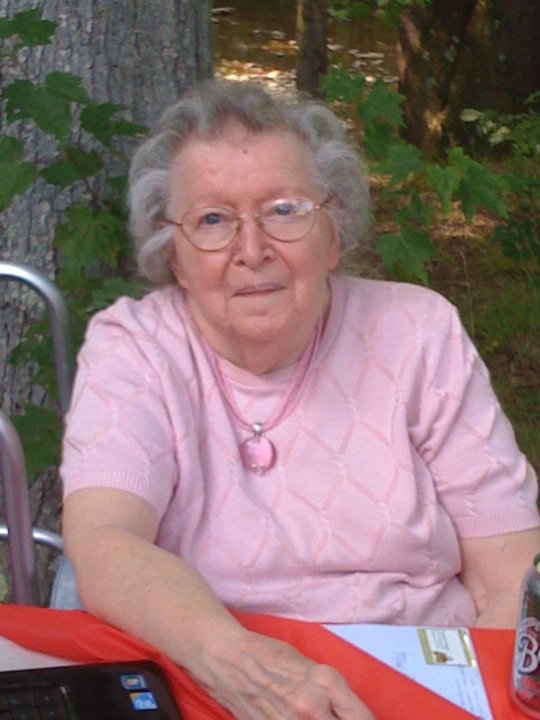 Obituary of Barbara Cooper
Barbara Ellen Reese Cooper (92) of Boothsville, passed peacefully at Fairmont Regional Hospital surrounded by her family on Tuesday May 15, 2018. She was born on September 26, 1925 in Whitehall to the late Claude Wesley Reese and late Mary Alice Bice Reese.
When she was 15 she saw a boy on her school bus and told everyone she was going to marry him… and she DID! She married the love of her life, Ernest Cooper Jr. on June 24, 1944 and spent their entire marriage as a homemaker raising their three children.
She was a tiny spitfire and never had a problem sharing what her opinion was! She loved watching birds and cardinals were her favorite. She loved country music and watching the Mountaineers play football. She loved going on trips and if you were taking a ride in the car you didn't have to ask her twice to go! She loved to go shopping and watch her soap operas and would often threaten to quit watching if they didn't get rid of characters she didn't like but she never did! She loved jewelry but never had her ears pierced because she was afraid. She loved family get togethers but she absolutely hated to eat outside! She was terrified of thunderstorms and the thought of staying alone at night and until 2002, when her beloved Junior was diagnosed with leukemia and often had to be hospitalized she had never spent a night alone. Grandson, John Jr. moved in with her and became her roommate so she wouldn't be alone and she enjoyed the company.
She and Ernest were two of the founding group of members of the NCHA Maple Leaves Trailer Club and were members for over 30 years.
She is survived by daughter, Sue Ellen King; son, John Ernest and wife Debbie all of Boothsville. Grandchildren: Kevin King (Heather), Keith King, Belinda Fetty (Bob) all of Fairmont, John Cooper Jr and Abby Cooper of Boothsville as well as several great and great-great grandchildren.
She is also survived by one brother, David (Eleanor) Reese of Alaska and two sisters: Frances Cutright and Alice Reaves both of Texas. Also surviving is brother in law, Kenneth Carpenter of Florida and sister in law, Betty Reese of Fairmont. Also surviving are MANY nieces and nephews scattered all over the country.
She was preceded in death by her loving husband of 58 years, Ernest; daughter, Linda; granddaughter in law, Kathy King; one brother William "Bud" Reese; four sisters: Marabelle Ford Villers (James & Ray), Eleanor Carpenter, Eloise Hyde (Wayne), Doris Hayes (Donald "Mac") and brother in laws Charles Reaves and Don Cutright.
The family will receive friends at the Ford Funeral Home, Ford Chapel, 201 Columbia Street, Fairmont, West Virginia 26554 Friday, May 18, 2018 from 1-8 p.m. and Saturday, May 19, 2018 from 10-11 a.m. The funeral service will be held in the funeral home Saturday at 11:00 a.m with Reverend Dr. Michael Richards officiating. The committal service will follow in the Harmony Grove Cemetery in Taylor County, West Virginia. Online condolences may be made to the family at www.FORDFUNERALHOMES.com