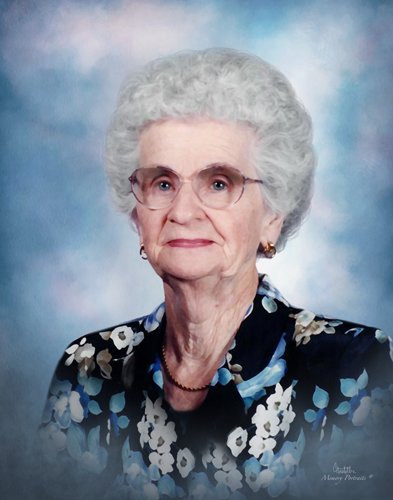 Obituary of Grace Skidmore
Mrs. Grace Dillon Skidmore, of Bridgeport, WV went to be with her Lord and Savior Jesus Christ on Monday, April 23, 2018 at Country Living Personal Care Home in Jane Lew, WV. She was born May 21, 1921 in Flemington,WV, the daughter of the late Charley and Beulah Collins Dillon. She was preceded in death by her husband, Francis Wilbur "Porky" Skidmore in 2015. They had celebrated seventy-five years of marriage.
Mrs. Skidmore is survived by three sons Paul K. Skidmore and wife Jay of Walton Hills, OH, Francis L. Skidmore of Bridgeport, WV and Terry N. Skidmore and wife Micha of Davenport, IA; two daughters Brenda S. Marsh of Canton, OH and Pamela R. Lalli of Mannington, WV; seven grandchildren; thirteen great grandchildren; three great great grandchildren and a sister Helen V. Lanham of Atwater, OH. She was also preceded in death by a brother Charles L. Dillon.
Grace was a devoted wife and mother to her family. She was a member of Bible Baptist Temple in Stonewood, WV and shared her faith to help others see her Lord and Savior Jesus Christ.
The family would like thank Sherry and Jonie of Country Living Personal Care Home for the love and support they gave their mother the past two years.
Friends will be received at the Ford Funeral Home, 215 East Main Street, Bridgeport, WV on Thursday from 3:00 PM – 7:00 PM and at Bible Baptist Temple, 1450 Cost Avenue, Stonewood, WV on Friday from 10:00 AM – 11:00 AM. The service will be celebrated in the church on Friday, April 27, 2018 at 11:00 AM with Pastor Charles Madaus presiding. The interment will follow in the West Virginia National Cemetery, Pruntytown, WV.
Condolences may be extended to the family at www.fordfuneralhomes.com.
The Skidmore family has entrusted the care and arrangements to the Ford Funeral Home, 215 East Main Street, Bridgeport, WV.