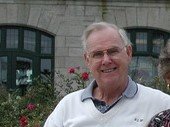 Obituary of Ronald Walls
Ronald L. Walls, 85, of New Symrna Beach, FL, formerly of Fairmont, passed away on Saturday, January 13, 2018 at his daughter's residence in Bridgeport, WV. He was born June 7, 1932 in Fairmont, WV a son of the late Glenn E. and Elizabeth I. Bayliss Walls. He was preceded in death by his wife, Lucile E. Fankhauser Walls in 2003.
Ronald was a 1950 graduate of Fairmont Senior High School and veteran with the United States Army where he attained rank of Sargent Major. He was a member of the First Baptist Church in Fairmont where he sang in the choir. Ronald owned and operated the Walls Insurance Agency in Fairmont he also was a housing contractor and built over 120 homes in the Fairmont area which included developing Sunset Acres. Ronald was the president of Stonewall Casualty Company in Fairmont and owned and operated the Fairmont Cab Company. He was a board member for First National Bank, First Fidelity Bank, and Wesbanco Bank, all in Fairmont.
Ronald was an avid bowler and golfer both in Fairmont and Florida upon his retirement. He belonged to the Fairmont Field Club and Lakeview Resort, as well as Sugar Mill Country Club in Florida. He had enjoyed boating and water skiing, traveling with his wife, playing bridge, and writing his own computer programs. He was a founding member of the Fairmont Athletic Association and a member of the Elks Lodge in Fairmont.
Survivors include his daughters, Diana and her husband Bob Boyle of Bridgeport and Sherry and her husband Naaman Clonch of Lutz, FL, grandchildren Bridget E. Smith of Bridgeport, Naaman Clonch III of Arvada Co, and Allison Clonch of Madison, WI, great grandchildren, Madison Kiser and Aiden Smith, a sister-in-law Margaret Walls of Buckhannon, and a niece Sara Beth and her husband Cliff Summers of Huntersville NC.
Memorial donations may be made to the American Heart Association, 162 Court Street, Charleston, WV 25301 or the American Cancer Society, 122 South High Street, Morgantown, WV 26501
Friend and family may visit at the Ford Funeral Home, 201 Columbia Street, Fairmont, WV on Friday, January 19, 2018 from 2PM until 8PM and on Saturday, January 20, 2018 from 10AM until 11AM The funeral will be held in the funeral home on Saturday, January 20, 2018 at 11AM with Reverend Val Gittings officiating. Interment will follow at Woodlawn Cemetery in Fairmont. Online condolences may be made to www.fordfuneralhomes.com.