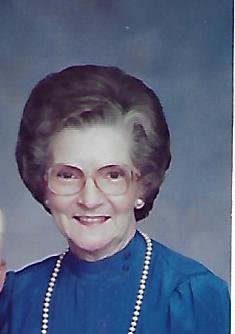 Obituary of Laura Loreta Phillips
Laura Loreta Phillips, 91, of Fairmont, passed away Monday, December 18, 2017 at the Maplewood Assisted Living in Bridgeport, WV. She was born July 18, 1926 in Rainelle, WV a daughter of the late Thomas Staten and Naoma Neff Reynolds. She is survived by her husband of 72 years, Glenn Howard Phillips.
Mrs. Phillips was a member of Life United Methodist Church in Fairmont. She had previously worked at Owens Illinois. Upon having her children, she became a homemaker in her own home, and later worked at Jones Department Store, Langs Fashions, the Colony Shop, and Adams Office Supply. Laura was a member of the Ladies Circle and the altar guild at church, as well as the Fairmont Women's Club. She enjoyed cooking and baking, but most of all she loved spending time with her extended family. Her faith in the Lord, and her family were the most important aspects of her life. She was a loving and caring person and passed her joy of life onto her children.
She is survived by her daughters, Carol Jean Boyers of Fairmont, and Rebecca Jane and her husband Michael Godfrey of Mohrsville, PA; her grandchildren, Laura Lea and her husband John Chapman, Janie Lynn and her husband Jason Hawkins, Patricia Ann and her husband Jayson Higgins, Eric Matthew and his wife Nicole Godfrey, and Samantha Megan and her husband Jeremy Hurwitz; great grandchildren, Gary Michael Chapman, Joshua Everett Hawkins, Ashlee Marie Higgins, Delaney Jayne Higgins, Sidney Marie Godfrey, Gavin Andrew Godfrey, Owen Matthew Godfrey, and Layla Ann Hurwitz, her brother Hanley and his wife Byrna Reynolds of Charlotte, NC, her sister Lacta Calvert of Bridgeport, her sister-in-law Betty Reynolds of St Albans, WV, as well as many nieces and nephews.
In addition to her parents, she was preceded in death by her son-in-law, John Boyers, her brothers, Howard and his wife Ruth Reynolds, and Harold Reynolds; her sisters, Louie and her husband James Six, Lucille and her husband Ray Six, and Lorena Reynolds; and her brother-in-law, Herman "Bud" Calvert.
The family would like to thank the staff of Maplewood Assisted Living, Amedysis Hospice, and her many private caregivers for their kindness and compassionate care over the past year.
Friends and family may visit the Ford Funeral Home, 201 Columbia Street, Fairmont, on Thursday, December 21, 2017 from 3PM until 8PM, and on Friday, December 22, 2017 from 10AM until 11AM. The funeral will be held in the funeral home on Friday, December 22, 2017 at 11AM with Reverend Clyde Beard officiating. Interment will follow at the Rest Haven Memorial Gardens in Fairmont. Online condolences may be made to www.fordfuneralhomes.com.