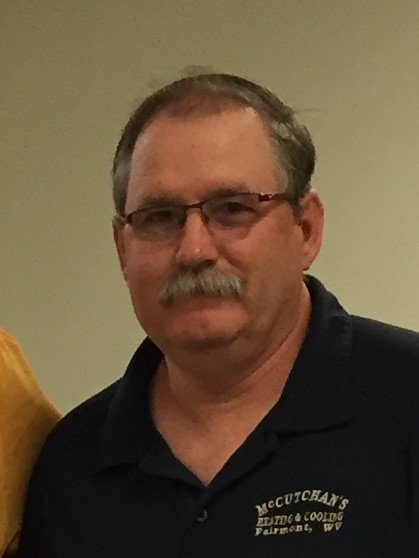 Obituary of John McCutchan
John Paul McCutchan, 59, of Fairmont, West Virginia died Tuesday, August 29, 2017 following a long hard fought battle with Glioblastoma. He was born March 19, 1958 in Parkersburg, a son of William "Bill" McCutchan and Barbara Jo Cunningham McCutchan. He is survived by his wife Nancy Nabors McCutchan of Fairmont, WV.
In addition to his wife, John is survived by three sons, John McCutchan and his wife Lori of DeBary, FL, Tyler McCutchan and his wife Stephanie of Fairmont and Michael McCutchan and his fiancé Francesca Perry of Fairmont; one grandchild, Lydia Renae McCutchan; two brothers, Jim McCutchan and his wife Jenny of Stuarts Draft, VA and Larry McCutchan and his wife Tracy of Pittsburgh, PA; one sister, Beth Tanner and her husband Ray of Webster Springs; a brother-in-law, John Nabors; as well as many nieces, nephews, uncles, aunts and cousins, including a special cousin, Joey Sutton and his wife Sheila.
John was a 1976 graduate of Brooke High School and a member of Meadowdale H&H Chapel United Methodist Church. John was the proud owner of McCutchan's Heating and Cooling of Fairmont for 20 years and they just completed a new shop in Kingmont in March of 2016. He previously worked as a coal miner at Martinka, Shoemaker and Enlow Fork Coal Mines. John enjoyed restoring cars, especially Ford Broncos with Ed Stalnaker. He was an avid hunter and deep sea fisherman out of The Oregon Inlet, NC. John loved his family, friends and employees at his shop. John made many investments but his greatest was his three boys. John was a very humble, hardworking man.
The family would like to thank all the healthcare providers for their kindness, care and love.
The family requests memorial contributions be made in John's memory to the Meadowdale H&H Chapel United Methodist Church, 141 Mt. Harmony Rd., Fairmont, WV 26554.
The family will receive friends at the Ford Funeral Home, Ford Chapel, 201 Columbia Street, Fairmont, WV 26554, on Friday, September 1, 2017 from 1-8 p.m. and Saturday, September 2, 2017 from 9-11 a.m. The funeral service will be held in the funeral home Saturday at 11:00 a.m. with Pastor Tom Shepherd and Pastor Scott Krepps officiating. The committal service will follow in the Grandview Memorial Gardens. Online condolences may be made to the family at www.FORDFUNERALHOMES.com.