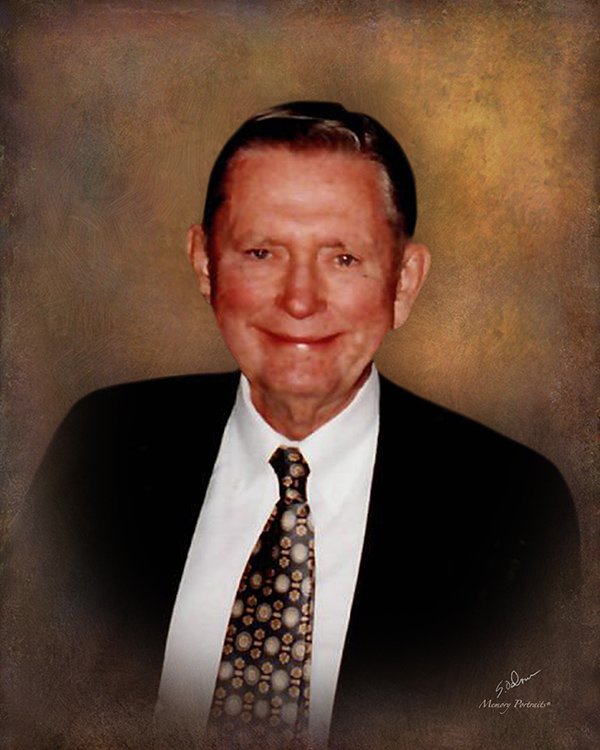 Obituary of William Walker, Jr., MD
William Nelson Walker, Jr., MD, 93 years old of Fairmont, WV, formerly of Bridgeport, WV died at home on Sunday, August 27, 2017. He was born November 28, 1923, in Nutter Fort, WV, the only child of the late William Nelson, Sr., and Elna (Bailes) Walker. He was preceded in death by his wife, JoAnn Walker, with whom he has one son Stephen and wife, Eve Walker, of Bridgeport, WV. He was also preceded in death by his first wife, Margaret Walker, with whom he has 6 children, Patricia Walker Williams, of Morgantown, WV, Beth and husband Doyle R. Sickles, Dorothy Walker Cooper, William and wife, Barbara Walker, and Thomas and wife, Diane Walker all of Bridgeport, WV and the late Janet Walker Gilmore. He is survived by 14 grandchildren, 10 great-grandchildren, a sister-in-law Mary Lou and husband, Dick Mitchell, 5 nieces and 2 nephews, and several grand-nieces and grand-nephews.
Dr. Walker loved education and felt it was an important aspect of life. He encouraged and was supportive of his 7 children and 14 grandchildren in their pursuit of higher education. He could read at the age of 4, therefore, started school early and graduated in 1940 from Washington and Irving High School of Clarksburg, WV, at the age of 16. He started his medical education in Morgantown at West Virginia University finishing in 1943. Since WVU's medical program at the time was only 2 years with a correlating relationship with the Medical College of Virginia in Richmond, VA, he continued his medical education in Richmond graduating in 1947. He then did his internship at Mercy Hospital in Pittsburgh, PA, and continued one more year in Pittsburgh in Family Practice. In 1949 he received his license to practice medicine in West Virginia and joined Dr. Chandler's family practice in Bridgeport, WV. He remained a family practitioner until 1955, at which time he began an Anesthesiology residency at Allegheny General Hospital in Pittsburgh, Pa. He returned in 1957 to be the first anesthesiologist at St. Mary's Hospital of Clarksburg, WV. He continued his career as the principle anesthesiologist through the merger of St. Mary's and Union Protestant Hospitals creating the current United Hospital Center, and retired in December 1995 at the age of 72. While working with St. Mary's Hospital, he established the first ICU, CCU, and recovery room (now known as PACU), started the first Nurse Anesthesia program in 1960, the School of Inhalation Therapy in 1971, and was an instructor in surgery at WVU. During his St. Mary's and UHC days, he was the director of Inhalation Therapy, was on the consultant staff of the Veterans Administration Hospital of Clarksburg, WV, and the Stonewall Jackson Memorial Hospital of Weston, WV, at which he established their first ICU. While working with UHC he spearheaded the opening of outpatient surgery centers within the community. The first center was in downtown Clarksburg between 1982 and 1986, and the second, UHC built Medbrook in Bridgeport in which outpatient surgeries were performed between 1986 and 1990.
Dr. Walker represented his profession as an active member of many associations, the Harrison County Medical Society, the West Virginia State Medical Association, the American Medical Association, the American Society of Anesthesiologists, the International Anesthesia Research Society, the American Inhalation Therapy Society, the academic Honor Society--Phi Beta Kappa, and a Diplomate of the American Board of Anesthesiology. He traveled with a group of anesthesiologists to China in 1983.
Dr. Walker was in 3 of the 5 branches of the United States Armed Forces. During his undergraduate years at WVU he was in the United States Army ROTC, then during medical school he enlisted in the United States Navy and during the Korean War he served with the rank of captain in the United States Air Force Medical Corps in Alabama.
Dr. Walker was a member of Christ Episcopal Church of Clarksburg, WV until 1972 when he became a founding member of St. Barnabas Episcopal Church of Bridgeport, WV.
Friends will be received at the Ford Funeral Home, 215 East Main Street, Bridgeport, WV, Thursday, August 31, 2017 from 2:00 PM - 4:00 PM and 6:00 PM – 8:00 PM. The funeral service will be celebrated on Friday, September 1, 2017 at Christ Episcopal Church, 123 South 6th Street, Clarksburg, WV at 2:00 PM with Reverend Nora Becker presiding. The interment will follow at Bridgeport Cemetery, Bridgeport, WV.
The family of William N. Walker would like to thank Velma Foster, Diane Hogan, and Reliable Home Health Care, for their father's quality care.
In lieu of flowers, the Walker family request donations be made to the Janet Walker Gilmore Memorial Scholarship Fund at Eberly College of West Virginia University, WVU Foundation, P.O. Box 1650, Morgantown, WV 26507, or Christ Episcopal Church, P.O. Box 1492, Clarksburg, WV 26302.
The Walker Family has entrusted the care and arrangements to the Ford Funeral Home, 215 East Main Street, Bridgeport, WV.
Condolences may be extended to the family at www.fordfuneralhomes.com.
The Walker family has entrusted the care and arrangements to the Ford Funeral Home, 215 East Main Street, Bridgeport, WV.