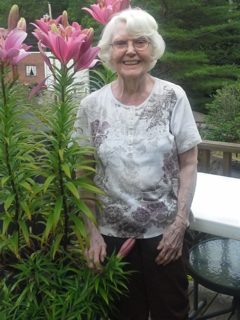 Obituary of Helen Suder
Helen Louise Suder, 87, of Rivesville, WV received her wings on Wednesday, July 5, 2017. She was born July 1, 1930 in Monongalia County, WV a daughter of the late Monie and Nellie Eddy Parker. She is survived by her husband of 70 years, Milford B. Suder.
Mrs. Suder was a member of the Wesley Chapel United Methodist Church. She was a devout servant of the Lord who was well known for blessed singing abilities. She was a graduate of Clay Battelle High School. She retired from Westinghouse Lighting Corporation where she worked in the sealed beam department, but she took more pride in being a homemaker and devoted mother, wife and grandmother. Helen was a member of the Hagans Womens' Club as was very active in serving her community. She also belonged to several prayer groups. Helen was an excellent cook and baker. She would make bounties of food, often creating the recipes herself. One could not leave her home without eating a full meal including dessert. She would always start her Christmas cookie baking in October in preparation for the holidays. Helen was a beautiful seamstress. She would make her daughter's entire wardrobe. She also was a gifted musician and soloist. She was adept as the guitar, the piano, and the dulcimer. She was often invited to sing on Frank Spevock's radio show. The most important thing to Helen was her family, she was the organizer of family gatherings, and did whatever she could for her husband, kids, and grandchildren.
In addition to her husband, Helen is survived by her daughter, Debbie and her husband Tim Garcia of Clarksburg, her grandchildren, Summer D. Garcia and her husband Glen Matheny, and Ty S. Garcia, all of Clarksburg; her grandchildren: Alexis Garcia, Isaiah Ferrell, and Callahan Garcia, as well as numerous other that she loved and claimed as family.
In addition to her parents, Helen was preceded in death by her brother, Monie "Bill" Parker; her sister, Betty Parker Simmons; and her niece, Pat Simmons Powell.
Friends and family may visit the Ford Funeral Home, DeGarmo Chapel, 207 Second Street, Rivesville, WV on Sunday, July 9, 2017 from 4PM until 8PM and on Monday, July 10, 2017 from 10AM until 11AM. The funeral will be held in the funeral home on Monday, July 10, 2017 at 11 AM with Reverend Stanley Merrifield officiating. Interment will follow at the Beverly Hills Memorial Gardens in Westover, WV. Online condolences may be made to www.fordfuneralhomes.com.