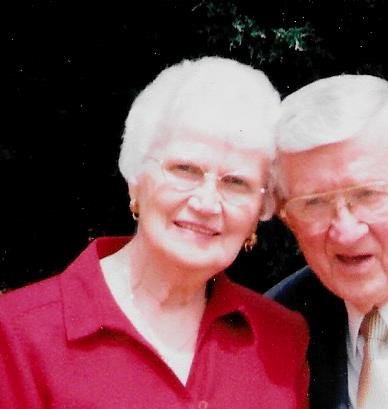 Obituary of Mildred Rosenberger
Mildred L. Rosenberger, 89, of Fairmont, went to be with the Lord on Tuesday, May 16, 2017, at St. Barbara's Nursing Home. She was born in Grafton on August 31, 1927, the daughter of the late Edgar T. Potter and Zella Hood Potter.
Mildred was happiest when surrounded by and caring for her family. She enjoyed her home, traveling, and antiquing with her husband, Eddie. She also assisted her husband with his businesses, "Rent a Sign" and "Your Fireside Shop". Mildred attended Fairmont State College and was an active member of the Baptist Temple Church for more than 60 years. During this time she was President of the Carl Cain class, taught Sunday school, and was a long time member of several women's circles. She also served on the Deacon board.
Mildred also assisted her husband with his businesses, "Rent a Sign" and "Your Fireside Shop". She will be lovingly remembered by her children, including two sons, Daniel and his wife Linda Rosenberger of Fairmont, and Alan and his wife Sandy Rosenberger of Rivesville; and two daughters, Cindy and her husband Rick Robinson of Fairmont, and Gail and her husband Don Raikes of Ashland, Va. There are 14 grandchildren; Adam, Eric and Scott Rosenberger, Michelle Rosenberger Judy; Joshua, Noah, Miranda and Jennifer Rosenberger, Haylee Malutich; Rachel Robinson, Marcie Robinson Wotring; Benjamin and Luke Raikes, and Taylor Raikes Ahmed. Her 12 great-grandchildren include Hanna, Abigail, Isaac, and Ayla Rosenberger, Trevor, Shayla, Whitney, and Alexa Wotring, Emma and Abe Ahmed, Boaz Malutich, and Myles Judy. She will also be affectionately remembered by friend and caregiver, Anne Delaney.
In addition to her parents, she was preceded in death by her husband Edward Rosenberger, and sisters Louise Potter and Helen Rosenberger.
Friends will be received at Ford Funeral Home, Ford Chapel, 201 Columbia St., Fairmont, on Saturday, May 20, 2017 from 2:00-8:00 p.m. and on Sunday, May 21, 2017, from 1:00-2:00 p.m. A Celebration of Life service will be held at the funeral home Sunday, May 21, 2017, at 2:00 p.m. with Pastor Alan Rosenberger officiating. Interment will follow at Woodlawn Cemetery. Online condolences may be sent to the family at www.fordfuneralhomes.com.