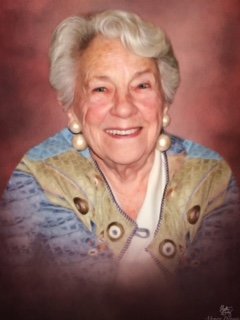 Obituary of Geraldine Marie Flowers
Mrs. Geraldine Marie Flowers, 88 years of age, passed away on Sunday, December 4, 2016 at United Hospital Center, Bridgeport, WV. She was born April 27, 1928 in Clarksburg, WV, the daughter of the late Lawrence and Hattie Walters. She was preceded in death by her husband Earl N. Flowers in 2002 and her son, Charles Flowers in 2009.
She is survived by her daughter Deirdre "Dee Dee" M. Flowers of Bridgeport, WV; two granddaughters Maya and Ella Flowers; seven nephews Andy Moore (Holly), Brad Moore (Jeanne), Randy Roberts, Larry, Les, and Lee Walters, and Russ Carter; six nieces, Kitty Fryman (the late Donn Fryman), Cathy Moots (Mike), Gina D'Angelo (Bill), Donna Moore, Diana Dickson, and Jerry Carter, and multiple great and great-great nephews and nieces, all of whom she loved very much. She was known affectionately to some of them as "Aunt Chicken".
After losing her parents at a young age, she was raised by Clarence and Margarite Jones, who preceded her in death. Although their relationship was never legally made official as parents and child, to her they became her parents and her children's "Papaw" and "Mamaw" until their deaths. She was also preceded in death by her two siblings, Larry Walters and Jean Jeppson, and her niece, Nancy Moore Roberts, who was like a daughter to her.
Jeri was a 1946 graduate of St. Mary's High School in Clarksburg. She was a member of All Saints Catholic Church and helped establish All Saints Choir. When the church was building their current facility, she and her husband "Doc" served as fundraising chairpersons.
"Doc" and Jeri enjoyed spending vacations at their home on Hilton Head Island. They cheered on the blue and gold of the West Virginia Mountaineers. She was a member of Bridgeport Country Club and was the Women's Golf Champion for two years. She made a difference in the community by volunteering for the American Heart Association, American Cancer Society and Clarksburg League for Service. She helped bring the first Hospice to Harrison County and shared her musical talents with the Madrigal Singers of Clarksburg. She loved to paint and considered herself an amateur artist.
She will be missed by her family and friends and remembered for her huge heart and love for others. Jeri never knew a stranger and was often heard saying "I just love people!" Her most important role was that of loving wife, mother, and grandmother. No one could deny that her grandchildren, Maya and Ella, were her proudest joy.
The family requests donations be made to All Saints Catholic Church, 317 East Main Street, Bridgeport, WV 26330; The Clarksburg Mission, 312 N. 4th Street, Clarksburg, WV; or Chinese Children Adoption International, 6920 South Holly Circle, Centennial, Colorado 80112.
Friends will be received at All Saints Catholic Church, 317 East Main Street, Bridgeport, WV on Friday from 10:00 AM – 12:00 PM. Catholic Funeral Liturgy will be at noon on Friday, December 9, 2016 in the church with Reverend Father Hilarion V. Cann presiding. The interment will follow at Bridgeport Cemetery, Bridgeport, WV.
Condolences may be extended to the family at www.fordfuneralhomes.com.
The Flowers family has entrusted the care and arrangements to the Ford Funeral Home, 215 East Main Street, Bridgeport, WV.