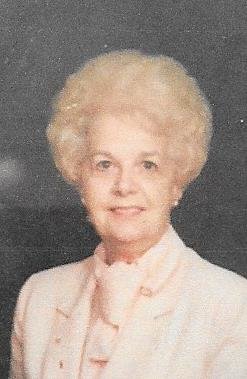 Obituary of Ruth "Eileen" Duskey
Ruth "Eileen" Duskey, 95, of Fairmont, passed away on Saturday, October 27, 2018, at the Genesis Pierpont Center in Fairmont. Eileen was born on July 16, 1923 in Wheeling, WV. The one and only daughter of the late Genevieve M. Conner Cunningham and Glenn D. Cunningham. In addition to her parents, she was preceded in death by her loving husband Jennings P. "Dick" Duskey in 1984. They were married August 21, 1942 and happily married for 41 years.
Eileen was employed at Hartley Department Store and C & P Telephone Company. She was a graduate, Class of 1941 from Fairmont Senior High School, and a life time member of Grace Lutheran Church. She sang in the choir for 25 years and was a member of the Ladies guild. Also an active member of many organizations: C & P Telephone Pioneers, Friendship Club, Isis Court #1 Ladies Oriental Shrine, WV Travelers Association, Civic League, Ladies of Elks, Fairmont Women's Club, Sweet Adeline Barber Shop Chorus, Marion County Historical Society, Democrat Women's Club.
She is survived by her cousin, Ernest Conner's wife Phyllis Conner of Wheeling, WV, Eileen Marion Baesel, Edward Baesel and his wife Julie of California and David Baesel and his wife Brenda of Florida. She is also survived by special friends, Michael and Kathy Riggi.
The family requests memorial contributions be made in Eileen's memory to Grace Lutheran Church, 300 Gaston Ave., Fairmont, WV 26554; the American Heart Association, West Virginia Region, 162 Court Street, Charleston, WV 25301; or to the American Cancer Society, 122 South High Street, Morgantown, WV 26501.
In accordance with Eileen's wishes, there will be no public services. A private graveside service will be held for the family at Beverly Hills Memorial Gardens in Westover. The family has entrusted arrangements to Ford Funeral Home, R.C. Jones Chapel, 1410 Country Club Rd., Fairmont, WV 26554. Online condolences may be made to the family at www.FORDFUNERALHOMES.com.