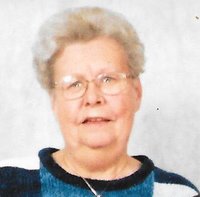 Dorothy Elaine Hartley
Dorothy Elaine Hartley, 82, of Fairmont West Virginia passed away on November 5, 2019 at her residence. She was born November 9, 1936 in Fairmont, WV the daughter of the late Carter Anderson and Edna Elizabeth Riggs Boyer.
Dorothy was a graduate of Fairmont Senior High School and worked for and retired from Phillips Lighting of Fairmont. She was a Methodist by faith. In her younger years she enjoyed playing softball and bowling. She enjoyed spending time at the family camp along the Tygart River and loved being with her family and especially her grandchildren.
Dorothy is survived by her daughter Susan Kirkpatrick and fiancé John Bishop of Fairmont. She is also survived by her grandson Eric Brubaker and his wife Brenda of Fairmont and her great grandchildren Cody Brubaker of Morgantown and Kyle Brubaker of Fairmont. She also leaves behind her sister in law Dorothy Boyer of Virginia, a very special friend Eleanor Chandler of Fairmont and several nieces, nephews and cousins.
In addition to her parents, Dorothy was preceded in death by her brother Carter R. Boyer.
The family will receive friends at the Ford Funeral Home, Ford Chapel, 201 Columbia Street, Fairmont, WV 26554 Thursday, November 7, 2019 from 2-8 p.m. and Friday, November 8, 2019 from 10-11 a.m. The funeral service will be held in the funeral home Friday at 11:00 a.m. with Pastor Charles Nickerson officiating. The committal service will follow in the Woodlawn Cemetery. Online condolences may be made to the family at www.FORDFUNERALHOMES.com.