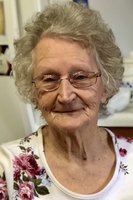 Sylvia Marie Smith Abel
Sylvia Marie Smith Abel, 93 years of age of the Colfax Community passed away on Friday, August 9, 2019 at Pierpont Center, Fairmont, WV. She was born November 28, 1925 in Grafton, WV the daughter of the late Howard and Nora Pitzer Williams. She was preceded in death by her first husband Mitchell Smith in 1977 and her second husband John Abel in 2013.
She is survived by two sons Bill Smith and his wife Janet of Boothsville Community and Robert Smith and his wife Diane of Fairmont, WV; a daughter Kathy Slaughter and her husband Alan of Franklin, KY; a brother Dorsey Williams and his wife Anne of Knottsville Community; two sisters Alice Lucas of Grafton, WV and Della Lambert and her husband Robert of Morgantown, WV; five grandchildren Jamie Smith, Mitchell Slaughter, Meghan Halfin, Mindy Current and Kerry Tomaro and eight great grandchildren. She was also preceded in death by three brothers Leonard, Forrest and Dorman Williams and two sisters Gertrude Mills and Dorthy Knotts.
She was a 1944 graduate of Grafton High School. She retired as the Payroll Manager for Interstate Fabricators and Contractors. She was a member and past worthy matron of Fairmont Chapter #34, Order of the Easter Star. She enjoyed camping at Tygart Lake State Park and Mt. Storm Lake. Also for many years, she spent a lot of time on the Tygart River.
Along with her friend Gerry Sergeant, they traveled what is called the 10,000 mile loop of the United States. Traveling and spending time with her grandchildren were important. On many occasions, she cooked and baked with her granddaughters.
A private service will be celebrated at a later date.
Condolences may be extended to the family at www.fordfuneralhomes.com. The family has entrusted the care an arrangements to the Ford Funeral Home, 201 Columbia Street, Fairmont, WV.