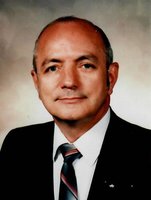 Richard Ray Greene
Richard 'Dick' Ray Greene, age 79, of Bridgeport, WV, died at his residence on August 1, 2019. He was born March 24, 1940 in Fairmont, WV, son of the late Donald Ray and Myrtle Williams Greene Bradley of Fairmont. He is survived by his wife of 56 years, Alyce Jean Greene, whom he married on September 23, 1962.
In addition to his wife, Dick is survived by one daughter, Beth Ann Wilson and her husband, Scott Wilson of Clarksburg; three sons, Richard 'Rick' Ray Greene, II and his wife, Mary Allessio Greene of Bridgeport, John Stephen Greene of Flemington, and Eric David Greene of Bridgeport. Grandchildren are Rachael (Chris) Bickel, Renee (Ethan) Williams, Marissa (Nick) Hoffman, Victoria Greene; great-grandchildren Emma Williams and Eden Greene; step-grandchildren Erica (Chris) Davis, Heather Daugherty; step-great grandchildren Chance, Caleb and Elijah Daugherty, and London and Brooke Davis.
Dick graduated from East Fairmont High School in 1958 and attended Fairmont State College. He served in the Army Reserves from 1962 through 1968. He was also a Boy Scout Executive for Preston County, a 33rd Degree Mason of Masonic Lodge No. 90 in Preston County, and the Osiris Shrine of Wheeling.
Dick worked as a manager for Clarksburg Foodland before purchasing various Foodland stores in Clarksburg (Rosebud and Bridgeport Hill), Grafton, Shinnston, Elkins and Westover. He also purchased, operated and began many businesses in West Virginia including True Value Hardware, Snyder Potato Chip Company, Tuccillo's Restaurants, WBUC, WBTQ, and the BEAR radio stations; and invested in residential and commercial real estate in Harrison and Taylor Counties. In 1987 he was one of nine investors who opened First State Bank in Elkins, WV. One of his biggest accomplishments was establishing Greene's Plaza Shopping Center in Grafton, WV.
Dick served on the board of the Salvation Army and Morgantown Pastoral Counseling Center. He was a member of the West Virginia Oil Marketers & Grocers Association.
Dick was preceded in death by his three infant sons, Don Brian, James Edwin, and Mark David Greene, and sister, Judith Ann Smith.
A Gathering will be held at Ford Funeral Home, 215 East Main Street, Bridgeport, WV on Friday, August 23, 2019 from 5:00 PM – 8:00 PM. A private service will be held at a later date.
Memorial contributions can be made to the West Virginia Hospice, 6 Hartman Plaza, Buckhannon, WV 26201 or Shriners Hospital for Children.
Condolences may be extended to the family at www.fordfuneralhomes.com. The Greene family has entrusted the care and arrangements to the Ford Funeral Home, 215 East Main Street, Bridgeport, WV.