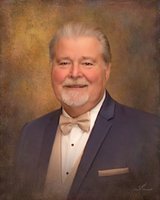 Larry Leslie Lockwood
Mr. Larry L. Lockwood, 69 years of age of Bridgeport, WV passed away on Sunday, May 5, 2019 at West Virginia University Hospitals, Ruby Memorial, Morgantown, WV. He was born September 2, 1949 in Flint, MI.
Larry was a veteran of the United States Army and served in the Vietnam War. He obtained the rank of Sergeant. While living in Michigan, he worked as a painter for General Motors Company. In 2007, he met his companion Shirley Oliverio and her family. Once he left Michigan, he never looked back and made West Virginia his home.
A Service of Remembrance will be celebrated at the West Virginia National Cemetery, 42 Veterans Lane, Grafton, WV on Thursday, May 16, 2019 at 11:00 AM. Military rites will be provided by the United States Army and the Harrison County Honor Guard. Family and friends will gather at Ford Funeral Home in Bridgeport at 10:30 AM to go in procession to the cemetery,
Condolences may be extended to the family at www.fordfuneralhomes.com. The Oliverio family has entrusted the care and arrangements to the Ford Funeral Home, 215 East Main Street, Bridgeport, WV.