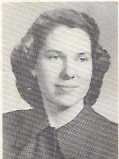 Dolores Lou Wix Gillespie
Dolores Lou Wix Gillespie, 87, of Monongah passed away on Monday, May 6, 2019, at her residence. She was born in Fairmont on July 18, 1931, a daughter of the late Cisco Jackson Wix and Etta Frances Enoch Wix.
Dolores is survived by a daughter, Maryanne McGowan; her grandchildren, Rebecca Savchuk of Hattiesburg, MS, Jackie Hahn of Fairmont, Amber Cox of Jumping Branch, WV, Tiffany Wyatt of Bluefield, WV, and Jason Runion of Beckley, WV; 15 great grandchildren, Izabelle Hahn, Abagail Gillespie, Layla Dufour, Jordan, Christian, Nicholas, Jonathan, and Zachariah Wyatt, Courtney and Rachel Cox, Angel, Bryson, Levi, Makayla, and Raelynn Runion; and a sister, Eva Sessa.
In addition to her parents, Dolores was preceded in death by her loving husband, Charles Wayne Gillespie; her son, Jonathan Gillespie, a daughter, Myra Elizabeth Gillespie; her brothers, Edward Wix, Kenneth Wix, Eugene Wix, Charles Wix, Alven Wix, and Cisco Wix Jr.; and a sister, Goldie Whitecotton.
Dolores was an avid reader, a proud homemaker, a true Proverbs 31 woman, former Sunday School teacher and choir member at Monongah Baptist Church (she attended faithfully until her illness). Dolores was adored by her grandchildren, in fact, they rarely have a memory without her in it. Dolores always enjoyed her Sunday outings with her late son, Jonathan and enjoyed sitting on her back porch on summer evenings talking to her dear friends and playing cards with Tammy Morgan and her daughter, Maryanne.
The family would like to thank the caregivers who cared for Dolores during her last year, particularly Andrea Edward Huey, Cindy, Terry, Christine, Monique, and Amber.
The family requests memorial contributions be made in Dolores' memory to the Appalachian Bible College, 161 College Drive, Mount Hope, WV 25880.
In accordance with her wishes, Dolores will be cremated. A memorial service will be held at a later date. The family has entrusted arrangements to Ford Funeral Home, 201 Columbia St., Fairmont, WV 26554. Online condolences may be made to the family at www.fordfuneralhomes.com.