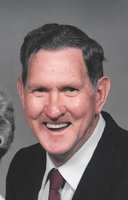 Russell Charles Endicott
Russell C. Endicott of Fairmont died suddenly and peacefully at his home on May 6, 2019. He was born May 28, 1927 in Wharton, WV, the son of Elmer Lee Sr. and Laura Gay (Gwinn) Endicott.
He attended the Bethesda Baptist Church in Barrackville, was employed at Eastern Associated Coal, Federal #1 Mine and was a World War II U.S. Army Veteran.
His survivors include his wife, Mavis Ann (Robinette) Endicott; a daughter and son-in-law, Jenny and Allen Moore of Barrackville; a son and daughter-in-law, Russell Charles Jr. and Donna Endicott of Salisbury, MD; a brother, Elmer E. Jr. (Vivian) Endicott of Point Pleasant; a sister, Daisy (David) Reid of Oakton, VA; five grandchildren, Tammy (David) Swiger and Michael (Cindy) Moore of Barrackville, Meredith Miller, Shane (Kelsie) Endicott and Seth Endicott of Maryland; seven greatgrandchildren, Courtney (Brad) Hamrick, Chelsea Swiger, Chase Moore, Nicholas Moore, Page Miller, Owen Endicott and Levi Endicott; and a sister-in-law, Gloria Jean Endicott of Point Pleasant.
In addition to his parents, he was preceded in death by a brother, Virgil P. Endicott.
In lieu of flowers, the family requests memorial contributions be made in Russell's memory to your favorite charity.
At the request of the deceased, there will be no public services. A private committal service will be held at Rest Haven Memorial Gardens in Fairmont with Reverend David Cyphers officiating. The family has entrusted Ford Funeral Home, 201 Columbia St., Fairmont, WV 26554, with the arrangements. Online condolences may be made to the family at www.fordfuneralhomes.com.