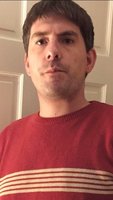 Alan Dale Deusenberry
Alan Dale Deusenberry, 39, of the Montana Mines Community, passed away on Sunday, May 5, 2019 in Fairmont. He was born August 8, 1979 in Fairmont a beloved son of Scott and Georgina Cutlip Deusenberry of Fairmont.

Alan attended East Fairmont High School. He had previously worked with Walmart, Fairmont Regional Medical Center, Schultz Machine, and Jacobs and Hutchinson. He was a loving and kind person, who saw the good in others. He was a great friend to many, and would always make a priority to help and aid those in need. Alan was an animal lover, and cared for many beloved pets throughout his life. He enjoyed fishing and camping, and riding both his motorcycle and dirt bike.

In addition to his loving and ever supportive parents, he is survived by his sister Deanna (Deusenberry) and her husband Nick Hall of Fairmont, WV, his brother Brian and his wife Jennifer Deusenberry of York, PA, his two nieces and a nephew, Bailey, Emily, and Jackson Deusenberry of York, PA. He is also survived by his aunts and uncles, Rose (Deusenberry) and Gary Heston of Fairmont, WV, and Phyllis (Cutlip) and Thomas Baker of Fairmont, WV.As well, as many cousins and extended family members.
Alan was preceded in death by his maternal grandparents, George and Orpha Jean Cutlip, his paternal grandfather, Scott Deusenberry, and his paternal grandmother, Emma Jean and her husband Kenneth James.
Memorial donations may be made in Alan's memory to Ford Funeral Home, 201 Columbia Street, WV 26554 to assist with funeral expenses.
Friends and family may visit the Ford Funeral Home, 201 Columbia Street, Fairmont, WV on Friday, May 10, 2019 from 11AM until 1PM. A memorial service will be held in the funeral home at 1M. Private committal services will be held at a later date. Online condolences may be made to www.fordfuneralhomes.com.