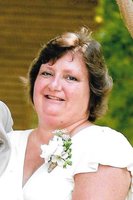 Tracy Lea Jenkins
Tracy Lea Jenkins, 51, of Fairmont, passed away on Friday, May 3, 2019, at Ruby Memorial Hospital in Morgantown. She was born in Fairmont on May 21, 1967, a daughter of Patricia Alice Shaw Rohr and the late Linden Henry Rohr Jr.
In addition to her mother, Tracy is survived by her loving husband, Carl James Jenkins II; two sons, Aaron Jenkins and his wife Nikki of Grafton and Andrew Jenkins and his wife Brianna of Fairmont; her daughter, Angie Duffelmeyer and her husband Joseph of Clarksburg; five grandchildren, Hagen Duffelmeyer, Elona Duffelmeyer, Nova Jenkins, Ellie Jenkins and Linden Jenkins; her brother, Michael Todd Rohr of Fairmont; her sister, Tammy Richards of White Hall; as well as several uncles, aunts, cousins, nieces and nephews.
Tracy was a 1985 graduate of East Fairmont High School and was a former secretary for Jarco Truck and Trailer Sales. She enjoyed bowling with the Fairmont Women's Bowling League and was very fond of dogs and cats. She loved her family, friends and grandchildren.
The family would like to thank the Jarco owners and employees as well as Dr. Osman Salman and staff at United Hospital Center in Bridgeport for their love and support.
The family requests memorial contributions be made in Tracy's memory to the Marion County Humane Society, PO Box 905, Fairmont, WV 26555.
The family will receive friends at Ford Funeral Home, 201 Columbia St., Fairmont, WV 26554, on Monday, May 6, 2019, from 2 p.m. until 8 p.m. and on Tuesday, May 7, 2019, from 10 a.m. until 11 a.m. The funeral will be held in the funeral home on Tuesday, May 7, 2019, at 11 a.m. A committal service will follow at Mt. Zion Cemetery & Mausoleum in Fairmont. Online condolences may be made to the family at www.fordfuneralhomes.com.