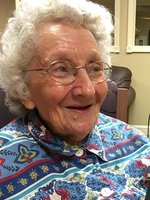 Rosa Frances Hensley
Rosa Frances Little Hensley, 84, of Culloden, WV, died May 1, 2019 at United Hospital Center, Clarksburg, WV, after a brief illness. She was born on August 1, 1934, in Kanawha County, WV, daughter of the late Arnold Asbury "Tim" Little and Virginia Alma Thornton Little. Mrs. Hensley was a 1953 graduate of St. Albans High School, where she was a member of the Stephen Foster Singers. After graduation, she worked at the Kanawha Valley Bank, for the federal government and as a homemaker. She was one of the founding members of the Scary Creek Church of God. She enjoyed sewing, quilting and gardening.
Rosa is survived by her son, Michael K. (Sarah) Hensley and grandson Samuel Timothy Hensley of Fairmont, sister Joyce Janney and nieces Teresa (Terry) Kuscsik, Gwen (David) Withrow, and Starla (David) Parsons, all of Palm Bay, Florida, and several great-nieces and nephews. In addition to her parents, she was preceded in death by her husband, Ronald Edward Hensley, and sisters, Marcella Mae Miller James and Genevieve Ann Little.
The family wishes to express their deep appreciation to the staff of St. Barbara's Memorial Nursing Home, Wishing Well Assisted Living, and United Hospital Center, Clarksburg, for Rosa's care. In lieu of flowers, the family requests that any memorial donations be made to St. Barbara's Memorial Nursing Home, P. O. Box 9066, Monongah, WV 26554.
Friends may call at Ford Funeral Home, Ford Chapel, 201 Columbia St., Fairmont, WV from 4 p.m. to 8 p.m., Friday, May 3, 2019. Visitation will continue Saturday, May 4, 2019 at Valley View Memorial Park, 2466 Main Street, Hurricane, WV from 11:00 a.m. to 12:00 p.m. Funeral services at the cemetery will follow at 12:00 p.m. with Rev. Clyde Beard officiating. Burial will be in Valley View Memorial Park, Hurricane, WV.