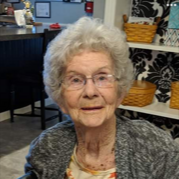 Hester Ann Malnick
Hester Ann Malnick, 91 of Fairmont, passed away on Wednesday, May 1, 2019 at the Fazio Eldercare Home in Monongah. She was born May 25, 1927 in Fairmont, WV a daughter of the late Joseph A. and Mildred P. Jarrett. She was preceded in death by both her first husband, Odie M. Reese, as well as her second husband Joseph A. Malnick.
Hester was a member of Life United Methodist Church, formerly St. Paul's United Methodist Church in Fairmont and was a graduate of Fairmont Senior High School. Hester retired from Owens Illinois Glass Plant with over 39 years of service where she served in the packing department. She had been a lifetime member of Fairmont Fitness Center and had enjoyed bowling and golfing.
Survivors include her daughters, Patricia and her husband Allen Kincaid of Fairmont, Sondra and her husband Bruce Russell of Follansbee, WV, and Beverly Lensch of Georgia, her step-son Gerald E. Reese of Bradenton, FL, her sister Becky Sopouch of New Jersey, as well as eight grandchildren, and several nieces and nephews.
In addition to her spouses, she was preceded in death by her sisters Marie Miller and Norma Smith.
Her family would like to thank the staff of Fazio Eldercare Home for the personal love and attention they showed Hester while she was with them.
Friends and family may call the Ford Funeral Home, 201 Columbia Street, Fairmont on Sunday, May 5, 2019 from 1PM until 8PM and on Monday, May 6, 2019 from 10AM until 11AM. The funeral will be held in the funeral home on Monday, May 6, 2019 at 11AM with Reverend Clyde Beard officiating. Entombment will follow at the Grandview Memorial Gardens in Fairmont. Online condolences may be made to www.fordfuneralhomes.com.