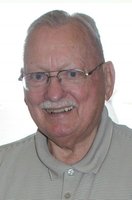 Okey Bowers, Jr.
Okey Bowers, Jr., 92, of Bridgeport, WV, passed away April 9, 2019 at Fairmont Healthcare and Rehabilitation Center. He was born March 30, 1927 in Morgantown, the youngest son of the late Okey and Edna Bowers.
He was preceded in death by his loving wife of 62 years, Doris Jeane, whom he married November 9, 1947 and his two brothers, Delbert and Coleman Bowers.
He is survived by five children, Becky Lear and husband Bob of The Villages, FL, Jennifer Bischoff of Raleigh, NC, Cindy Fowler and husband Dan of Bridgeport, Larry Bowers and wife Monica of Eagle River, AK, Marcy Mossburg and husband Jeff of Bridgeport; nine grandchildren, Elizabeth Chmelo, Jon Chmelo and wife Karin, Brad Miller and wife Emily, Sara Bealko and husband Matt, Andrew Fowler and fiancé Ali Mols, Erin Bowers, Laura Bowers and fiancé Alex Koffard, Katie and Ben Mossburg; four great grandchildren Colton and Ashlynn Miller, Evelyn Bealko, and Coleman Chmelo; and his sweetheart, Carroll Williams.
He attended University High School in Morgantown and was a graduate of the Morgantown Business College, the WV School of Banking and the National Association's Bank Auditors & Comptroller School.
Okey was quite proud of his more than 40 years in the banking business. He was employed by Farmers and Merchants Bank in Morgantown before joining the Union National Bank in Clarksburg where he worked until his retirement as Senior Vice President in 1987. He was active in the community and served as president of the Clarksburg Lions Club, Executive Committee of the Harrison County United Way and Treasurer of the Harrison County Red Cross along with the Advisory Board of the Salvation Army.
He was a veteran of the US Air Force, serving in both California and England. A Master Mason in the Morgantown Union Lodge No. 4 A.F.&A.M. and later the Late Lodge No. 63 A.F.&A.M. of Bridgeport, he was also a member of the Scottish Rite in the Valley of Morgantown and a 32nd degree member of the Scottish Rite in the Valley of Wheeling. He was a member of Bridgeport United Methodist Church.
Okey delighted in time spent with his children, grandchildren, and great grandchildren. Many smiles and much laughter were shared while vacationing at the beach, hunting, fishing, playing games, doing handy work and "watching the garden grow." Some of his favorite memories were driving his 1962 Corvette, "Happy Hour" with the Girls, and golfing with his buddies while bragging about being in the "Hole in One" club at Bridgeport Country Club.
A gathering of friends and family will be held at Bridgeport United Methodist Church, 251 Worthington Drive, Bridgeport, WV on April 20 from 10AM until noon, with a funeral service immediately following. A private burial will be held at a later time. In lieu of flowers please make donations to the Bridgeport United Methodist Permanent Fund, 251 Worthington Drive, Bridgeport, WV 26330 or Cheat Lake U.M.C. Cemetery Fund, 30 Harvest Drive, Morgantown, WV 26508. Condolences may be extended to the family at www.fordfuneralhomes.com. The Bowers family has entrusted the care and arrangements to the Ford Funeral Home, 215 East Main Street, Bridgeport, WV.