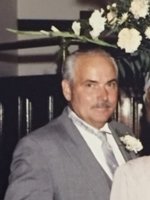 Glenn Edward Scott
Glenn Edward Scott 88 of Rivesville, WV passed away Wednesday, January 16, 2019 at St. Barbara's Memorial Nursing Home in Monongah, WV. He was born May 31, 1930 in Rivesville, WV, the son of the late Allen Pearl and Eliza Ann Scott. He was preceded in death by his loving wife Harriett Joann Hardesty Scott who passed away on January 29, 2016.
Glenn was a Corporal in the US Army who served as a paratrooper with the Company A 188th Airborne Infantry Regiment during the Korean War. He was a retired coal miner from Eastern Associated Coal Company.
Glenn is survived by his three daughters: Beverly Ann Scott of Rivesville, Cathy and Charles Coster of Fairmont and Denise and Roy Ralston Jr. of Cuyahoga Falls, OH. He is also survived by three sisters: Ellen Elder, Lucy Hibbs and Carolyn Patton; four grandchildren: Caroline Coster and husband Garry Glaspell, Charles Jr. and Kristin Coster, Chase Ralston and Logan Ralston. He has four great grandchildren: Garry Glaspell III, Pepper Glaspell, Chloe Coster and Caden Coster.
In addition to his parents and wife, Glenn was preceded in death by a brother Paul Scott, a sister Gladys Yost and an infant son Michael Scott.
The family would like to thank the doctors, nurses and staff of the St. Barbara's Memorial Nursing Home for their loving and considerate care of Glenn while he was a resident.
Friends and family may visit the Ford Funeral Home, DeGarmo Chapel, 207 Second Street, Rivesville on Saturday, January 19, 2019 from 4-8 PM. The funeral will be held in the funeral home on Sunday, January 20, 2019 at 1:00 PM with Pastor Richard Buonaiuto officiating. Interment will follow at Beverly Hills Memorial Gardens in Westover, WV. Online condolences may be made to the family at www.fordfuneralhomes.com.