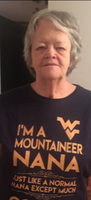 Karol Ann "Cook" Swiger
Karol Ann "Cook" Swiger, 71, of Fairmont, passed away on Wednesday, December 5, 2018 at Ruby Memorial Hospital. She was born March 19, 1947 in Elkins, WV a daughter of the late Joseph and Mabel "Evans" Cook.
Karol was a 1966 graduate of East Fairmont High School and a 1967 graduate of the Morgantown Beauty Academy. She formerly attended the Mt. Harmony Community Church for many years. Karol began working during high school alongside her mother as a waitress at the Sunny Side Grill near the Westinghouse Corp. in Fairmont. Upon graduation, Karol became a hairdresser in Fairmont before moving to North Carolina in 1968. She continued as a hairdresser upon her return to Fairmont in 1969. In 1976, she joined the family business of JJ&K Corporation in Fairmont as the bookkeeper. Upon her retirement, she then enjoyed providing adult care for over 15 years both privately and with the WV Center for Aging.
Karol enjoyed her monthly lunch meetings with her reunion group. She loved nature and enjoyed taking drives to appreciate the beauty of trees and their foliage. She especially loved to witness the West Virginia fall leave change. But, her true love was her grandchildren. She loved following them from sporting events, to school programs, to proms and beyond.
Survivors include her daughters, Cynthia "Cindy" and her husband Kevin Drummond of Bridgeport, WV, and Lisa and her husband Jason Bishop of Fairmont, grandchildren Lena Abigail Swiger, Jacob Lewellen, Elijah Drummond, Noah Drummond, Jacky and his wife Whitney Drummond, Joshua Drummond and his fiancée Amanda Kelley, T.J. Bishop, and Matthew and his wife Sonni Bishop, great grandchildren, Aiden Shinkovich, William Shinkovich, and Quinn Drummond, as well as her brother Kenneth and his wife Sandy Cook of Capon Bridge, WV, her sister-in-law, Judy Cook of Fairmont, several nieces and nephews.
In addition to her parents, she was preceded in death by her twin brother, Keith Cook
Memorial donations may be made to the WVU Cancer Center in Morgantown, WV at https://give.wvu.edu/wvumedicine/wvucancerinstitute.
Friends and family may visit the Ford Funeral Home, 201 Columbia Street, Fairmont on Friday, December 7, 2018 from 3PM until 8PM and on Saturday, December 8, 2018 from 10AM until 11AM. The memorial service will be held in the funeral home on Saturday at 11 AM with Randy Vincent officiating. Private committal services will be held at a later date at Mt. Zion Cemetery and Mausoleum in Fairmont. Online condolences may be made to www.fordfuneralhomes.com