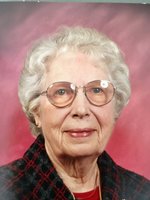 Carrie Louise Wagner
Carrie Louise Stout Wagner passed away on September 8, 2018 in Crozet, VA. She was the daughter of Raymond Marshall Stout and Mabel Mount Stout and the wife of Elbert Bernard Wagner, who passed away on August 16, 1998.
She was born in Flemington, WV on November 29, 1925. Carrie graduated from Flemington High School in 1941, attended West Virginia Business College from 1941-42 and earned an associate's degree from Salem College, WV.
Carrie retired in 1987 after working as a secretary for the Medical Service of the Veterans Administration Hospital in Clarksburg, WV from 1967-1987. She was also employed as a legal secretary for the West Virginia State Road (1965- 1967), a secretary for the biology department of WVU (1947-1949), and an accounts receivable clerk for the Central WV Wholesale Grocery and Supply Company in Flemington, WV (1942-46).
She was a member of St. Paul United Methodist Church (Life United Methodist Church) in Fairmont, WV and a member of the Order of Eastern Star Queen Esther Chapter 11, Bridgeport, WV.

Carrie's life revolved around the Lord, her husband, and her children. She was deeply devoted to her family and friends. She enjoyed gardening, canning, and lovingly preparing food for her family. Her big heart, warm hugs, and delicious pepperoni rolls will be missed dearly.
She is survived by her daughters, Lisa Louise Auber (Randy Allenby of Fairmont, WV), Robin Rae Stanek (Tom) of Crozet, VA, Sandra Elaine West (Ron) of Zelienople, PA, and daughter-in-law Judith Ann Cutright Wagner of Fairmont, WV. Her son, "Al" Elbert Bernard Wagner Jr. passed away on August 5, 2006.
She is also survived by her 10 grandchildren: Carrie Ann Butterworth (John Morrison) Fairmont, WV, Robert Butterworth III Point Marion, PA, Jason Auber Fairmont, WV, Christopher Stanek (Kayla) Charlottesville, VA, Michael Stanek Washington, DC, Rebecca Stanek New York, NY, Jennifer West Zelienople, PA, Brian West Zelienople, PA, Denise Wagner Fairmont, WV, Travis Lee Wagner Fairmont, WV.
In addition, she is survived by sisters-in-law Jean Stout of Flemington, WV, and Helen Garrett of Bethesda, MD, as well as eight great grandchildren and several nieces and nephews. Her brothers, Raymond Daniel Stout and Clay Mead Stout, preceded her in death.
Memorial donations may be made to Life United Methodist Church, 3000 Technology Drive, Fairmont, WV, 26554.
Visitation will be held on Thursday, September 13 from 2-4 p.m. and 6-8 p.m. at the R.C. Jones Funeral Home, 1410 Country Club Road, Fairmont, WV. The funeral services will follow on Friday, September 14, 2018 at 10AM with Reverend Larry Buckland officiating. Interment will follow at the Simpson Cemetery next to the Union Baptist Church in Simpson, WV. Online condolences may be made to www.fordfuneralhomes.com.