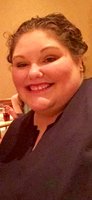 Tonya Nicole Snodgrass
Tonya Nicole Snodgrass, 32, of Barrackville, passed away on Tuesday, July 3, 2018, at Ruby Memorial Hospital. Tonya was born on March 21, 1986 and is survived by her parents, Jeff and Ann Gump of Barrackville.
Tonya worked as a pediatric oncology nurse at Ruby where she was loved and respected by her coworkers, patients and their families. She loved everything Disney and Harry Potter. She enjoyed traveling, crafting, decorating cakes and reading.
In addition to her parents, Tonya is survived by her sister, Christina Snodgrass of Barrackville; her best friend and other sister, Charissa Workman of Fairmont; her grandmother, Sharon Gump of Barrackville; her grandfather, Captain John Thaubald, Ret. Of Elkins; her faithful companion, Max as well as numerous aunts, uncles, and cousins.
In celebration of Tonya's life and what she loved, she had requested that visitors be encouraged to wear beach and Disney themed attire.
The family would like to thank the Mary Babb Randolph Cancer Center, the Bone Marrow Transplant Unit at Ruby and Dr. Kanate and staff for their loving care and support. The family would also like to extend a special thank you to the staff of 6 Southeast at Ruby for their love and support.
The family requests memorial contributions be made in Tonya's Memory to the Jack Strong Foundation, PO Box 395, Bridgeport, WV 26330, or to the WVU Children's, PO Box 8200 (ROCII), Morgantown, WV 26506.
The family will receive friends at Ford Funeral Home, 201 Columbia St., Fairmont, WV 26554, on Friday, July 6, 2018, from 2 p.m. until 7 p.m. and on Saturday, July 7, 2018, from 10 a.m. until 11 a.m. The funeral service will be held in the funeral home on Saturday, July 7, 2018, at 11 a.m. Online condolences may be made to the family at www.FORDFUNERALHOMES.com.