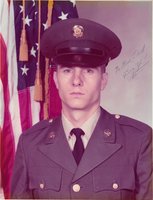 William Steven Fultz
William Steven Fultz, 65, of Fairmont, West Virginia died Monday, June 11, 2018 at his residence. He was born June 13, 1952 in Fairmont, WV a son of the late John William Fultz & Margaret Louise Fox Fultz.
He is survived by a sister and brother in law Linda & J.D. Parks of Fairmont, WV, a brother John Samuel Fultz of Fairmont, WV and a special friend Mark Russell of Fairmont, WV. Steven was preceded in death by a step mother Mary Ellen Fultz.
Steven was a worker for the Laborer's Union Local 379 in Morgantown, WV. He served in the United States Army and was a 1970 graduate of East Fairmont High School. He was a member of the American Legion Post #17. Steven loved the outdoors, fishing, horses & his dogs. He was always willing to help all his friends and neighbors.
Memorial contributions may be made to the Marion County Humane Society, 2731 Locust Avenue, Fairmont, WV 26554.
The family will friends at the Ford Funeral Home, 201 Columbia Street, Fairmont, WV 26554 Wednesday, June 13, 2018 from 5-8 p.m. and Thursday, June 14, 2018 from 10-11 a.m. with Reverend Stanley Merrifield officiating. The committal service will follow in the West Virginia National Cemetery in Pruntytown, WV. Online condolences may be made to the family at www.FORDFUNERALHOMES.com