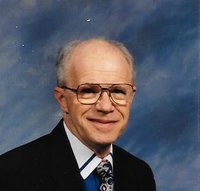 Robert Lee Kozul Sr.
Robert Lee Kozul Sr., 89, a resident of Fairmont, WV, passed away on January 30, 2018, at the Louis A. Johnson V.A. Medical Center in Clarksburg. He was born in Fairmont on January 16, 1929, the son of the late Frank and Beatrice Dukes Kozul.
Robert Married the love of his life Shirley Ann Kozul on April 24, 1953. Shirley preceded him in death on January 17, 1997.
Robert is survived by two sons, Robert Kozul Jr. of Spring City, TN and Forrest Kozul and wife Becky of Fairmont; three grandchildren, Maresa (Ben) Hoffmaster, Robert (Kara) Kozul, and Austin Kozul all of Fairmont; one sister, Diana (Don) Shimrak of Mentor, OH, one brother, Edward (Shirley) Kozul of Fairmont; sister-in-law, Nancy Hess of Fairmont as well as several nieces and nephews. He is also survived by daughter-in-law, Roberta Kozul of Fairmont, and care giver Kishia Perkins of Fairmont.
Preceding him in death were his parents as well as his wife Shirley and sisters Beatrice (Guy) Coniglio, Delores (Sam) Raspa of Fairmont, Kathy (Albert) Giambettro, Mary Louise (Edward) Grum of Willoughby, OH, and stepmother, Mary Kozul of Fairmont.
Mr. Kozul graduated from Fairmont Senior High School in 1947 and worked at the Lee Theatre through high school. He also graduated from Mechanist School at EFHS. He served with the US Army- 11th Airborne Division as a Field Artillery Parachutist and was stationed at Fort Campbell,KY. On his return home, he went to work for the B&O Railroad before being hired at Westinghouse where he retired as a Machinist 1st class in 1989.
Joining Diamond Street United Methodist Church in 1955, Robert became very active in the life of the church serving as head usher, head greeter, and choir member. He saw the church merge into what is now Gateway UM Church.
Robert loved music and joined the WHA-KEE-WE-NN Dulcimer Group in 2006 where he sang and played Harmonica.
Mr. Kozul was a member of the B.P.O.E. #294 Elks of Fairmont, holding several offices. He enjoyed dining and dancing on Friday nights. Robert was also a former member of the Moose Lodge #9 of Fairmont.
Robert could build or fix anything and passed on his knowledge to his two sons. He loved being with family and friends and was very proud of his grandchildren.
The family requests memorial contributions be made in Robert's memory to Gateway United Methodist Church, 301 Diamond St., Fairmont, WV 26554.
The family will receive friends at Ford Funeral Home, 201 Columbia St., Fairmont, WV 26554, on Thursday, February 1, 2018, from 2 p.m. until 8 p.m. and on Friday, February 2, 2018, from 10 a.m. until 11 a.m. The funeral service will be held in the funeral home on Friday, February 2, 2018, at 11 a.m. with Pastor Tim Edin officiating. A committal service will follow at Grandview Memorial Gardens in Fairmont where full military rites will be conducted by the Marion County Veteran's Council. Online condolences may be made to the family at www.FORDFUNERALHOMES.com.