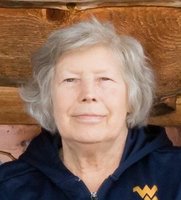 Susan Witt Beam
Susan Witt Beam, 69, of Eighty-Four, PA, passed away peacefully on Wednesday, November 1, 2017, in the care of Concordia Hospice of Washington at the Donnell House, with her family by her side.
She was born October 6, 1948, in Fairmont, WV, a daughter of the late Charles Edward Witt and Susan Jane Witt. She was also preceded in death by her brother Chad Witt.
Sue loved music. She played both flute and piccolo. A 1966 graduate of Mt. Lebanon High School, she was an honored member of the legendary Mt. Lebo marching band. Sue went on to graduate from West Virginia University in 1970. She was a proud Mountaineer, attending countless WVU football games, always cheering for her beloved Blue & Gold.
Sue will be best remembered for the wisdom and affection that she bestowed on all her loved ones. She valued her role as a wife, mother and grandmother above all else, receiving her greatest pleasure from hosting family and friends at gatherings filled with homemade, gourmet meals - always creating wonderful memories.
Sue was smart, creative and athletic. Sue pursued many hobbies over the years including playing tennis and golf. Additionally, she was an avid reader, an equestrian and an accomplished dog trainer. Known by most for her positive outlook and her sense of humor, Sue was a valued member of the Nemacolin Woodlands Ladies Golf League, Airedale Terrier Club of America, Steel Valley Airedale Terrier Association, United States Equestrian Team Foundation, National Republican Committee, Heritage Foundation, George W. Bush Presidential Center, The Conservative Caucus and Junior League of Pittsburgh.
Sue is survived by her devoted husband of 47 years, Charles Edward Beam. She also leaves behind her daughter Caryn Hansen and husband Jason of Holly Springs, NC; daughter Erin Mills and husband Jeffrey of Farmington, PA; her six grandchildren: Logan, Carly, Jacob, Macy, Anne and Julia; sister Connie Jones and husband Cody of Sissonville, WV; sister Amy Klevan and husband Tom of Bethel Park, PA; sister-in-law Barbara Reynolds and husband Jim of Irvine, CA, and many loving nieces, nephews and cousins.
Many dear friends will cherish her memory and her family extends their gratitude to all those who helped in ways large and small during her battle with cancer. The family also extends heartfelt thanks to the incredible team at the Donnell House (Concordia Hospice of Washington) in Washington, PA and to the medical staff at UPMC Hillman Cancer Center in Shadyside, PA.
Per Sue's wishes there will be no viewings and she wanted all to know, "my heart is full – no regrets!"
A private, graveside memorial service will be held in Fairmont, WV at Woodlawn Cemetery on Sunday, November 5, 2017.
In lieu of flowers, Sue requested donations be made to the scholarship she created with her sisters, in memory of her father, The Charles Edward Witt Memorial Scholarship - donations should designate the Charles Edward Witt Memorial Scholarship (3S606) and be sent to: West Virginia University Foundation, One Waterfront Place - Seventh Floor, PO Box 1650, Morgantown, WV 26507-1650.
The family has entrusted Ford Funeral Home, 201 Columbia St., Fairmont, WV 26554, with the arrangements. Online condolences may be made to the family at www.FORDFUNERALHOMES.com.