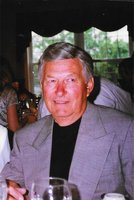 Ernest Cheslock
Ernest Cheslock, 89, of Fairmont passed away peacefully at home on April 13, 2018. He was born on May 9, 1928 in Morgantown a son of the late Tony and Nellie Cheslock. He is survived by his wife of 66 years, Ileda Cheslock.
Ernie was an independent business owner founding Grafton Cable and Fairmont TV. He enjoyed golfing, bowling, gardening, playing cards, and the farm.
In addition to his wife, Ernie is survived by his four children: Shelly Oliveto of Fairmont, Marcia Morgan of Bridgeport, Pam and her husband Scott McMurtrie of Orlando, and Kyle and his wife Regina Cheslock of Grafton; ten grandchildren: Melissa and her husband Jeff Northey, Tricia Oliveto, Ryan and his wife Ashley Schmidt, Jessica and her husband Wallis Higginbotham, Anthony Oliveto, Kelly and her husband Chris Commins, Derek and his wife Heather Wight, Michael Oliveto, Cory Hayes, and Andrew and his wife Jeanette Wight; eleven great-grandchildren: William, Graham, Arabella, Talia, Finley, Emily, Joey, Austin, Nicholas, Reagan, and Savannah; two brothers: Julian and wife Margaret Cheslock and Eddie and wife Miriam Cheslock; two sisters: Roseline Brand and Connie Powley.
In addition to his parents, Ernie was preceded in death by his two daughters, Deborah and Monica, his brother Waclaw, and his two sisters, Anne and Mildred.
Friends and family may visit the Ford Funeral Home, R.C. Jones Chapel, 1410 Country Club Road, Fairmont on Sunday, April 15, 2018 from 2PM until 8PM, and on Monday, April 16, 2018 from 12 noon until 1PM. The funeral will be held in the funeral home on Monday, April 16, 2018 at 1PM. Interment will follow at the Beverly Hills Memorial Gardens in Westover. WV. Online condolences may be made to www.fordfuneralhomes.com.