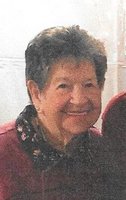 Novella F. Drazba
Novella F. Drazba, 92, of Madison, WV, formerly of Barrackville, WV, died peacefully at the home of her niece Brenda on April 10, 2018 after a long illness. She was in the care of Hospice.
Novella was born June 5, 1925 to the late James and Lula Swiger Chiera. She was married to Felix Drazba who passed away in 2002. In addition to her parents and husband, those who went before her are her sisters Ruth Santy, Amy Cunningham, and Roberta Chiera, her brother, James F. Chiera, her stepson Greg Drazba, and her niece Sandra Chiera.
Novella is survived by her stepson Randy (Rosa Lee) Drazba and her stepdaughter Stephanie (John) Wilson and several step grandchildren. She is also survived by her nephews Ralph Santy and Russell Santy of Fairmont, her nieces Regina Cunningham Ogden of Barrackville, Kay Santy Carter of Elkins, and Brenda Chiera Ellis of Madison, and several great nieces and great nephews.
Novella was a 1946 graduate of Barrackville High School. She was a former employee of Westinghouse in Fairmont. Novella was also a member of The Barrackville United Methodist Church. She enjoyed volunteering at the Soup Kitchen in Fairmont, gardening, camping, fishing, crocheting, and working crossword puzzles.
Novella was a kind soul and always had a warm smile to greet you. During her last few years while living in Madison she was always ready to tag along and enjoyed spending time with her family. She always looked forward to seeing 'her babies' who lovingly would call her 'Bee Ella' and 'Bella'. Novella will be remembered for her caring heart, her loving spirit, and her smile that would light up the room.
Memorial donations may be made to Barrackville United Methodist Church, Pike Street, Barrackville, or Hospice Care of Charleston, WV. The family would like to thank Hospice Care of Madison and the Boone County Community Action (FAIR program) of Madison for their excellent care and attention during the past few months.
Visitation will be Sunday at Ford Chapel, 201 Columbia Street, Fairmont, WV 26554, from 1:00-3:00. A Sunday service will follow immediately after visitation with Reverend Stephanie Bennett officiating. Final resting place will be at Grandview Memorial Gardens in Fairmont. Online condolences may be made to the family at www.FORDFUNERALHOMES.com.