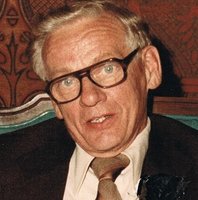 Alfred Edwin Murray
Alfred Edwin Murray, 88, of Fairmont passed away on April 10, 2018, at the Fairmont Health and Rehabilitation Center. He was born on September 10, 1929 at Snowden Township, PA, son of the late William P. and Ellen Murray.
Alfred worked at Hulbert Oil Co.; Eastern Coal Co. and Consol, working the last 10 years of employment with Lee Engineering in Pittsburgh, a division of Consol.
Alfred is survived by his son, Alfred Murray (Mary "Sis"); grandchildren, Lance Murray (Melissa) and Ann Marie Murray Deadrick (Wes); great-grandchildren, Kai Murray, Aspen Murray, Austin Deadrick and Wyatt Deadrick; sisters, Rita Komenoski of Florida, Phyllis Boehm of Ohio and sister-in-law, Betty Murray of Fairmont and several nieces and nephews.
In addition to his parents, he was preceded in death by sisters, Janet Harding of Fairmont, Mary Ellen Spenjak and Verla Dupuis of Las Vegas, Nevada; brothers, William Murray of Fairmont and Phillip Murray of Ohio.
Memorial contributions may be made to the Immaculate Conception Church, 329 Maryland Avenue, Fairmont WV .
The family will receive friends at Immaculate Conception Catholic Church, 329 Maryland Ave., Fairmont, WV 26554, on Monday, April 16, from 9:30 a.m. until 11 a.m. Mass of Christian burial will be held at 11 a.m. in the church with Father Jojan Joseph, C.S.T. as celebrant. A committal service will follow at Grandview Memorial Gardens in Fairmont. Online condolences may be made to the family at www.FORDFUNERALHOMES.com.