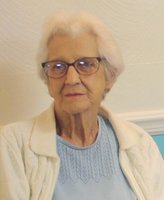 Marilyn June Stanley
Marilyn June Stanley, 85, of the Levels Community, passed away Saturday, April 7, 2018 in her residence. She was born January 19, 1933 in Fairmont, WV a daughter of the late John and Bessie Hovey Erdie. She is survived by her husband of 66 years, William Franklin Stanley, whom she married on April 25, 1951.
Mrs. Stanley was a 1951 graduate of East Fairmont High School. She was a homemaker and mother of four. She was an Avon associate for over 35 years where she became an assistant manager. Marilyn was an avid reader and enjoyed sewing. She and her husband were active members of the Cross Roads community center where they were active in the apple butter festival and sale preparation.
In addition to her husband, she is survived by her sons, William Lloyd and his wife Jo Ann Stanley of Fairmont, Mark David Stanley of Levels Community, and Brian Glenn Stanley of Levels Community, her grandchildren, Jessica Dawn and her husband Josiah Batten of Fairmont and William Harold Stanley of Fairmont, and her great granddaughter, Nyssa Eleanor Batten. She is also survived by her brother, James Erdie of Lafayette, IN, her sister, Jonnie Erdie Friend of Fairmont, her special niece, Judith Sanders of Fairmont, her sister-in-law, Minnie and her husband Robert Walker of Fairview, as well as many beloved nieces and nephews.
She was preceded in death by her son, Douglas Grant Stanley, brothers, Romeo Erdie, Wade Erdie, John Erdie Jr., Carl Erdie, and Bobby Erdie, and her sisters, Eleanor Shanefelter, Madeline Erdie, Dolly Bryant, and Joan Grise.
Friends and family may visit at the Ford Funeral Home, 201 Columbia Street, Fairmont on Monday, April 9, 2018 from 3:30 PM until 8PM and on Tuesday, April 10, 2018 from 11AM until 1PM. The funeral will be held in the funeral home on Tuesday, April 10, 2018 at 1PM with Reverend Jim Zinn officiating. Interment will follow at the Mt. Nebo Cemetery on Bunner's Ridge. Online condolences may be made to www.fordfuneralhomes.com.