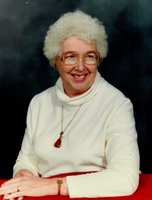 Flodene R. Marteney
Mrs. Flodene Marteney, 89 years of age of Bridgeport, WV passed away on April 6, 2018 at her residence. She was born March 29, 1929 in Weston, WV the daughter of the late Franz and Lulu Snyder Rastle. She was preceded in death by her husband Kenneth K. Marteney in 2007. They had celebrated forty-nine years of marriage.
She is survived by a son Alan Marteney and wife Debi of Dover, DE; two grandsons Kenneth Fischer and wife Ana of Philadelphia, PA and Josh Bryant and wife Marielle of Baltmore, MD; two close friends Gene Allen and wife Gwen of Bridgeport, WV and Diana Bedell of Bridgeport, WV and several nieces and nephews. She was also preceded in death by a daughter Cheryl Ann Marteney and two brothers Leon and Keith Rastle.
Flodene was a homemaker and an active member of Bridgeport United Methodist Church. Along with her husband, they joined the church in 1961. She was a member of the Chancel Choir, taught Sunday school for the kindergarten class for many years and accompanied the Cherub choir. Also, she was a member of the United Methodist Women.
Music and humor were gifts she shared with family and friends. She sang with a community choir called the Melody Makers and provided solo arrangements for weddings and funerals.
She graduated from Weston High School and Bowling Green Business University. She previously worked for the law firm of Stathers and Cantrall of Clarksburg.
The family wants to express appreciation to their mother's friends for all the love and support given during her transition to be with her Lord and Savior.
The family requests donations be made in Flodene's memory to the Bridgeport United Methodist Church Permanent Fund or the Bridgeport United Methodist Women at 251 Worthington Drive, Bridgeport, WV 26330.
Friends will be received at the Ford Funeral Home 215 East Main Street, Bridgeport, WV on Tuesday from 5:00 PM – 8:00 PM. The funeral service will be celebrated in Bridgeport United Methodist Church, 251 Worthington Drive, Bridgeport, WV on Wednesday, April 11, 2018 at 10:00AM with Reverend Dr. Ken A. Ramsey presiding. The interment will follow in the West Virginia National Cemetery, Pruntytown, WV.
Condolences may be extended to the family at www.fordfuneralhomes.com.
The Marteney family has entrusted the care and arrangements to the Ford Funeral Home, 215 East Main Street, Bridgeport, WV.