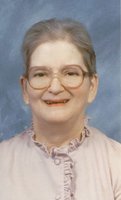 Elizabeth Ann Collins
Elizabeth Ann Collins, 82, of Fairmont, entered into the presence of Christ on April 2, 2018 at the Fairmont Regional Medical Center in Fairmont, WV. She was born on November 20, 1935 in South Charleston, WV the daughter of the late Robert and Elizabeth Taylor.
Ann was a public school teacher and an employee of the Bible Book Store in Charleston, WV. She was a member of The Baptist Temple of Fairmont, WV and a past member of First Baptist Church of St. Albans, WV.
She is survived by a daughter, Joyce (Holley) Faulkner; son, Donald (Jennifer) Collins; grandson, Robert Collins and granddaughter, Michelle Faulkner.
In addition to her parents, Ann was preceded in death by her husband of 60 years, Roger Collins; a daughter, Deborah Warth; and granddaughter, Holly Elizabeth Faulkner.
A memorial service will be held at Ford Funeral Home, 201 Columbia Street, Fairmont on Saturday, April 7 at 11:00 AM with Reverend Joel Harpold and Reverend Holley Faulkner officiating. Visitation will take place one hour prior to the service.