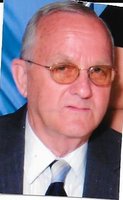 Donald Ray Troy
Donald Ray Troy, 82, of Pleasant Valley, passed away on April 3, 2018 at Fazio Elder Care in Monongah, WV. He was born June 24, 1935 in Metz, WV a son of the late Robert H. and Margaret E. Mayne Troy. He is survived by his loving wife, Sophia E. Hostutler Troy.
Don attended the Benton's Ferry United Methodist Church. He was a graduate of Mannington High School and Fairmont State College with a bachelor of science in education. He retired as a teacher, with 31 years of service, from the Bedford City Schools in Bedford, OH. "Pap Troy" was a kind and loving man who loved spending time with his family, but especially his grandsons whom he cherished greatly.
In addition to his wife he is survived by his daughter, Donna and her husband Gary Boyles of Pleasant Valley, grandsons, Jeff and his wife Danielle Boyles of Fairmont, and Andrew Boyles of Parkersburg, and his grandchildren, Julian, Hudson, and Parker Boyles. He is also survived by his sister Jean Pethtel of Mannington, his sisters-in-law Darlene Troy of Fairmont, Lucille Faulkner of Pleasant Valley, and Bonnie Hostutler of Hundred, as well as several nieces and nephews.
He was preceded in death by an infant daughter and his sister, Barbara Lewis, and his brother James Troy.
The family would like to thank Amedysis Hospice and Fazio Elder Care for the loving care they provided Don in his last months.
Memorial contributions may be made to the Benton's Ferry United Methodist Church, c/o Nancy Aspinall, 1360 Airport Road, Fairmont, WV, 26554.
Friends and family may visit the Ford Funeral Home, 201 Columbia Street, Fairmont, WV on Thursday, April 5, 2018 from 12 noon until 8PM, and on Friday, April 6, 2018 from 10AM until 12noon. The funeral will be held in the funeral home on Friday, April 6, 2018 at 12 noon with Rev. Dr. Michael Richards officiating. Interment will follow at the Cunningham Memorial Gardes in Burton, WV. Online condolences may be made to www.fordfuneralhomes.com.